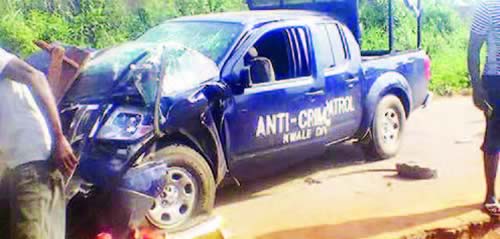 A police driver has killed two people while attempting to stop an overloaded commercial bus on the Asaba-Ibusa-Ogwashi-Uku Expressway, in the Oshimili North Local Government Area of Delta State, PUNCH reports.
According to eyewitnesses, a male suspect in the police van, and the driver of the commercial bus they were chasing died on the spot.
A female suspect in the van reportedly passed out and was rushed to a hospital.
One witness, identified as Uche, said that the incident occurred at about 2PM on Thursday. The driver of the bus, Chinedu Ojimadu, was reportedly burnt to death in the presence of sympathisers and the policemen.
It was gathered that the policemen, in order to avoid a reprisal from sympathisers, called for help from the Ibusa Police Station.
"This accident was a flagrant abuse of power by those who are supposed to enforce the law. The policemen veered off their lane to stop a bus on motion from a slope, which resulted in the bus exploding.

The incident must be thoroughly investigated. The three policemen must be fished out to pay for their crime. They killed my brother for no just cause. They watched my brother burn without doing anything," a relative of the deceased driver told PUNCH on the telephone on Sunday.
The Delta Police PRO, SP Celestina Kalu, who confirmed the incident said she could not tell if there was any casualty.
Photo Credit: Ovie Okpare/PUNCH