Annie Idibia, Madu Moc, Peace Emezue, Kiki Omeili, Debbie Collins and other celebrities, three (3) breast cancer survivors and one breast cancer patient walked 9.5km to create awareness on breast cancer. The walk started from Radio Lagos/LTV compound, Agindingbi through Allen roundabout to Opebi roundabout and back to Radio Lagos in Agindingbi, Ikeja,
After the walk, the following activities kicked off: Dance Against Cancer (DAC), Karate Against Cancer (KAC), One Million Signatures against Breast Cancer, Meet the Cancer Survivors, Presentations on Cancer by Dr. Chummie of Lakeshore Cancer Centre, Free Prostate Cancer Screenings, Free Ultrasound, Free Breast Self Awareness Materials, and fundraising for Oyayi – a breast cancer patient.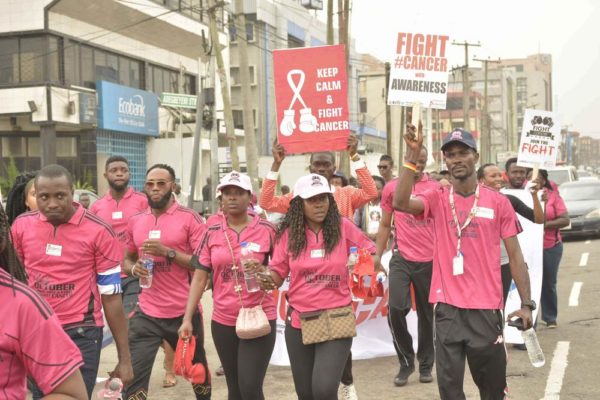 Over 300 women and men received free breast and prostate cancer screenings.
"Breast cancer awareness is such an important cause, cancer can affect anyone and hence, we all have a role to play in increasing awareness, and encouraging women do breast self exam and screenings; as I do same. I will continue to support this cause" said Annie Idibia
Kiki Omeili, a Nollywood actress and a also a medical doctor, asserted "some cancers have a good chance of being treated if detected in time and the only way to do that is to be proactive, because some of them like cervical cancer have no symptoms at early stage. I urge everyone to get screened today".
Runcie C.W. Chidebe, Executive Director of Project Pink Blue emphasized that "it is not only early detection that saves lives, rather early detection and treatment save lives. I know of a lady who was detected of stage II, but could not raise funds on time to start her treatment; today she is battling with stage III".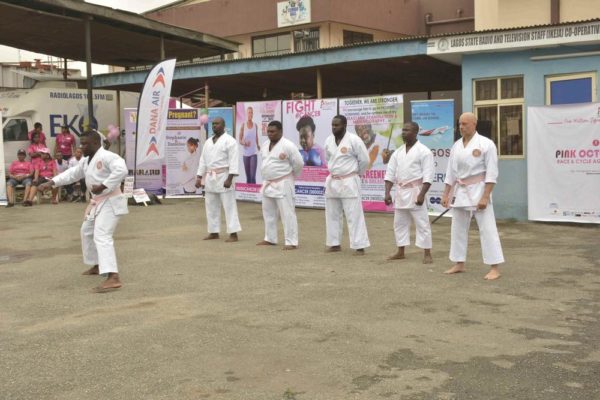 Karate against Cancer was one of the interesting aspects of the event, as the World Shotokan Karate Do Federation led by Bobby Bamgboye staged a performance in memory of their team member's wife who died of breast cancer.
Pink October Walk, Race & Cycle against Cancer was supported by Jumia Nigeria, Dana Air, Radio Lagos, Eko Fm and BellaNaija. Powered by Project Pink Blue.
See all the photos here;
______________________________________________________________________
This content has been published for free as part of BellaNaija.com's commitment to youth, education, healthcare and community development as part of our corporate social responsibility programme.