Genesis Cinemas Presents 'Queen of Katwe' Discounted School Booking | Offer valid till December 9th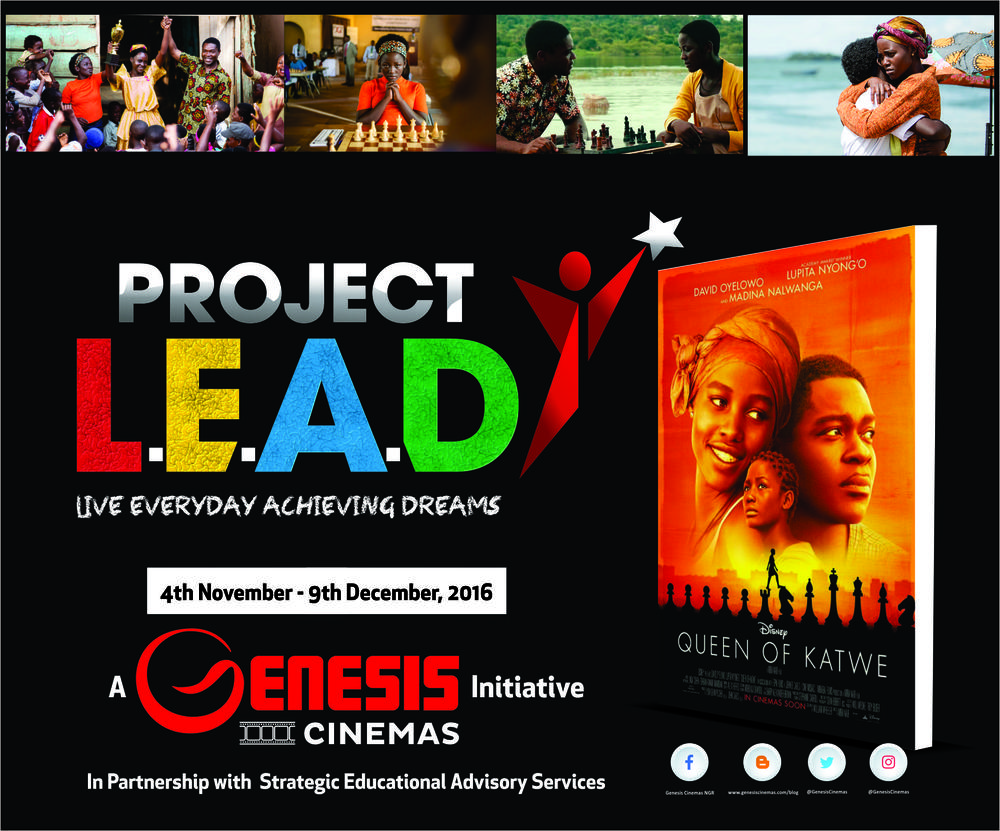 Sometimes the place you are used to … is not the place you belong.
Genesis Cinemas, in partnership with Strategic Educational Advisory Services,  invites schools to watch the movie,"QUEEN OF KATWE", now showing at all Genesis Cinemas nationwide and fully supported by the movie distributors, Crimson Multimedia Limited.
A L.E.A.D [Live Everyday achieving Dreams] initiative by Genesis group of companies, is an equal opportunity platform to extend educational cinema experience to all children at discounted prices. For as little as N500, every child gets a movie ticket, popcorn and a drink in addition to other exciting entertainment packages to enhance learning.
L.E.A.D tickets are available only between 9:00am – 1:00pm
Queen of Katwe tells the story of a Ugandan girl named Phiona Mutesi. Phiona lives in a small, impoverished village with her mother and siblings but her dreams are bigger than her entire village. One day, fate throws her into the path of a man teaching several children how to play chess…
Can a National Chess Champion emerge from the slums of Katwe?
Please see details below for bookings:
Lagos
Ochuko: 09087237644  (Group Bookings and Sponsorships)
Tonia:    08077272176  (Palms and Novare Lekki Mall, Sagotedo)
Glory:    08036929381  (Maryland)
Port Harcourt / Owerri / Warri
Inu: 08077273916.
Port Harcourt
Sonia: 08090165463
Warri
Helen: 08077273977 and 07030915437
Owerri
Oge: 2348090165464
Abuja
Tunde: 08077273923.
Queen of Katwe.. A must watch for family, teachers and children.
________________________________________________________________
Sponsored Content