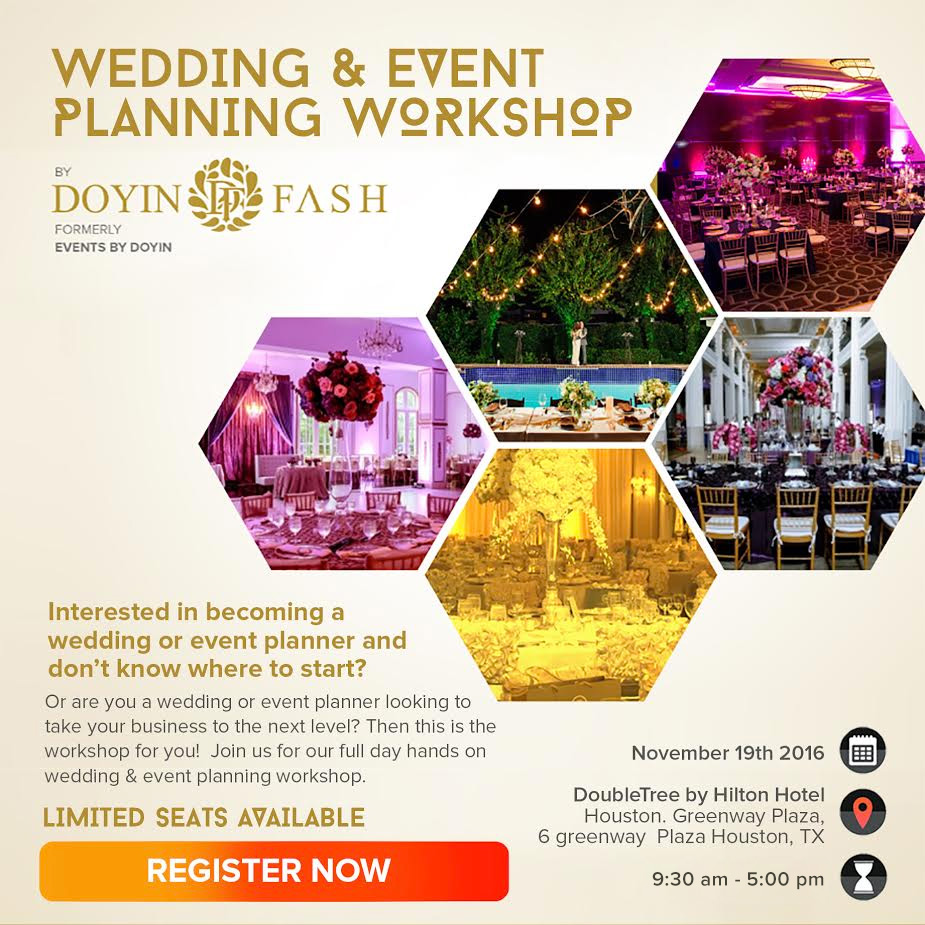 A day of inspiration, education & networking
This is an intensive one day hands on workshop for those looking to become event planners or further their planning & design skills in the realm of weddings, special events & corporate events. This class will be led by Doyin Fashakin the owner of Doyin Fash formerly known as Events by Doyin. In addition to learning from Doyin, there will be other guest speakers who have successful businesses in the events industry. The goal in this workshop is to share our methods, tips, and tricks that have made us successful in the wedding and event planning world.
Date: Saturday, November 19th, 2016.
Time: 9:30am-5pm
Venue: DoubleTree by Hilton Hotel,Houston, Greenway Plaza, 6 greenway Plaza Houston, TX.
Our workshop will include:
The events planning industry overview
The roles of a wedding/event planner
Starting your own wedding/event planning business with solid foundations
Pricing strategy that works
Attracting your ideal client
Developing winning proposals & writing contracts
Finance & budget management
Styling & designing uniquely
Branding that sets you apart from your competition
Logistics & Timeline
Event/wedding production
Case studies
Our role playing segment will include:
Wedding & corporate event client consultations
Vendor meetings & negotiations
Designing tablescapes
Post Workshop (This is an upgraded package)
Attend one or two of Doyin Fash's luxury weddings/events
Register here to attend.
______________________________________________________________________
Sponsored Content