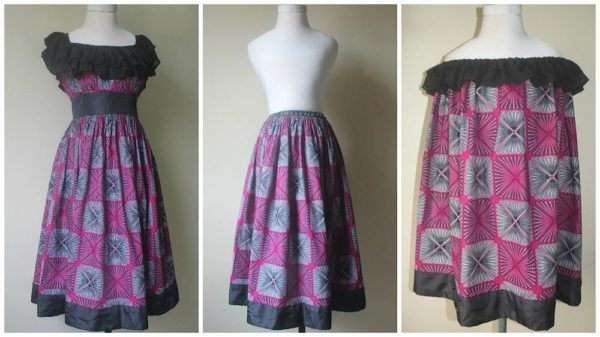 Indeed, austere times call for austerity measures. 2016 is definitely the year of 'Want vs. Need' mental debates. Considering the current state of the economy, most people have been compelled to devise budget-friendly measures and stretch their finances across the most basic necessities.
Recently, I thought I needed brand new clothes but after careful consideration, I realized that what I'd assumed was a need was simply a want slyly camouflaging itself as a need. So, I browsed through my clothes and spotted items that hadn't been worn in ages either because of a change in my personal style, a change in fashion trends or a change in my body size.
I sorted the abandoned clothes into three categories:
1. The Beloved: Garments that I still loved but had totally forgotten about, and still aligned with my current personal style.
2. The Redeemables: Garments that I no longer loved but I could still refashion by gently nudging them into the Love Zone with the right tweaks.
3. The Unredeemables: Garments that I would neither love nor wear again.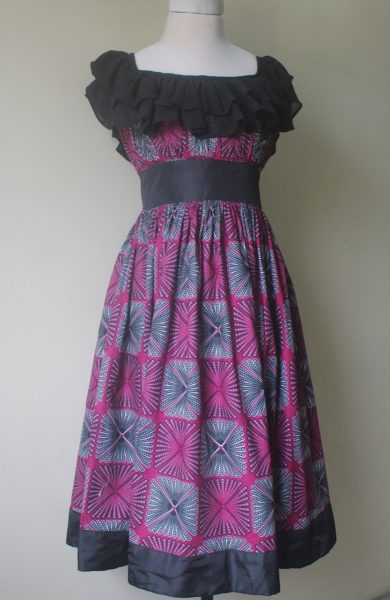 This dress fell into the second category, it was sewn six years ago and at the time I was in love with the fit-and-flare silhouette. Now, the style seems a little too Scarlett O'Hara-in-Gone-With-The-Wind for my taste, but I still liked certain details of the dress such as the fabric print and the frilly chiffon neckline
So what to do? I wore my Sewista-tinted glasses and saw that I had two brilliant budget-friendly options to choose from. Typically, a dress with a waistline seam comprises of a bodice (top half) and a skirt (bottom half).
Option A: Full Skirt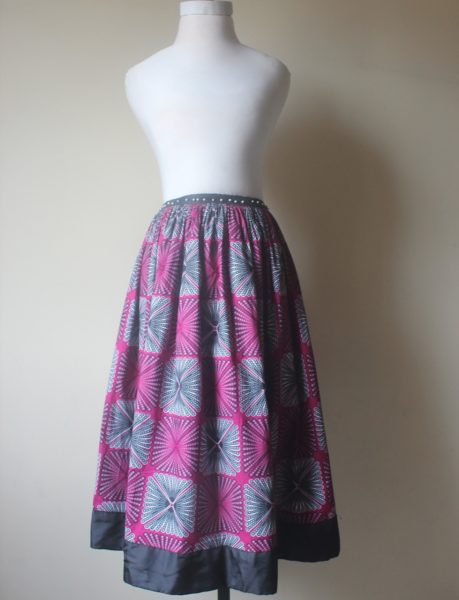 1. Separate the bodice and skirt at the waist line seam
2. Ditch the bodice
3. Attach a waist band at the top edge
4. Attach a short zipper at the centre back seam
5. Voila! A new-ish skirt that can be paired with a variety of tops. This upcycling hack is a great way of building one's collections of skirts.
Option B: Off-Shoulder Shift Dress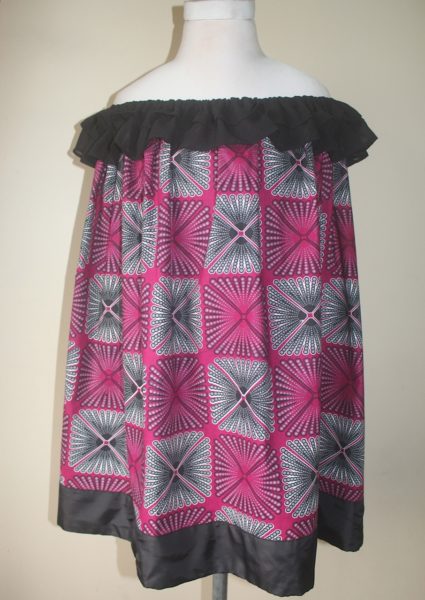 1. Separate the bodice and skirt at the waist line seam
2. Detach the chiffon neckline fabric from the bodice
3. Ditch the bodice
4. Modify the bottom half by creating armholes at the top corner of each side
5. Attach the repurposed bottom half to the black chiffon neckline fabric, by stitching at the top edge
6. Measure and cut a strip of elastic band shoulder-width minus 3 to 4 inches
7. Using a medium safety pin, insert the elastic band into a half inch wide tunnel created at the top edge
8. Voila! A new-ish off- shoulder shift dress.
Thankfully, we live in the era of accessible information. There are loads of tutorials on the Internet showing how to attach a waistband, attach a zip and insert an elastic band. I write a DIY sewing blog where I curate a directory of helpful sewing resources.
Basic sewing machines are pretty affordable, even if you don't own one don't let that discourage you from upcycling your clothes. You can also sew by hand using backstitches, when done carefully backstitches mimic machine stitches. I recommend using a "single leg" when threading the hand needle by knotting only one thread and leaving the other thread to hang free. Then, sew 6 to 8 even stitches per inch.
The way I see it, shopping in one's own closet is a smart way of building one's wardrobe without breaking the bank. Financial intelligence should be a lifestyle.
Using sewing as a metaphor for life, likewise, what with the ongoing economic turmoil in Nigeria, it would be thrifty if we looked inwards for ways to salvage the situation using what we already have. Obviously, one way of shopping within the "National Closet" would be by producing the things we consume, and utilizing more homegrown resources.
The 'Buy Nigerian' mantra has never been more relevant than it is right now considering the unfavourable exchange rate fluctuations. I'm the first to acknowledge that the importance of a reliable infrastructural framework required to support the Buy Nigerian movement cannot be over-emphasized, as it's similar to a "Cart-before-the-Horse" type of scenario.
Still, with determination and a conscious effort to grow sustainably, I strongly believe that, just like my dress, the Nigerian economy is redeemable.
Photo Credit: Feature Image – Photographerlondon | Dreamstime.com