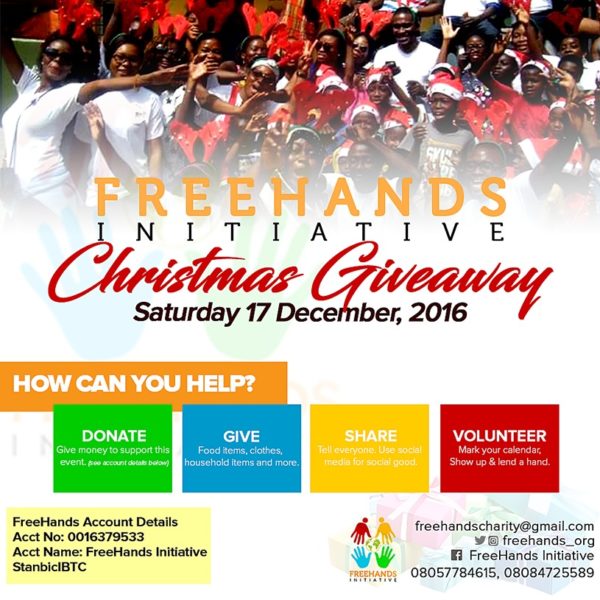 We're all about ensuring that we reach as many people this holiday, spreading love, and good cheer. In that regards, BellaNaija is proud to support the initiatives of people who are working to change lives.  One of those groups is the Freehands Initiative. 
On Saturday 17th December, the Freehands team will have their Christmas giveaway event.  The plan is to give Christmas hampers and hot meals to people in a low income community in Lagos. They will also have Christmas carols and games, so it's going to be fun and giving!
The Plan
1. Cook noodles and eggs for 500 people.
2. Repackage 10 bags of rice into 500 hamper-sized bags.
3. Pack 500 hampers.
4. Sort clothes, shoes and other material items donated.
5. Manage the crowd.
The venue is:
Light of Salvation Christ Mission,
1, Liadi Street off Abija Road
Lawanson Bus Stop,
Ijegun, Satellite Town, Lagos
Direction
By Public Transportation: Board a bus at Mile 2 going to Iyana-Iba. Get off at Abule-Ado Bus Stop. Cross over to the other side and walk into the street leading to Old Ojo Road. Take a bike and tell the rider the address.
By Private Transportation: From Mile 2, drive along Badagry expressway to Abule-Ado Bus Stop. Go a little further and make a U-turn before you get to 'under bridge'. While heading back, take the first right turn iinto a link road at Ilepo, then make a left turn into Old Ojo road. Drive straight down along Old Ojo road to FIn-Niger bus stop and turn right into Marwa road. Drive straight down along Marwa road until you get to Lawanson bus stop. Turn left into Abija road and ask of Light of Salvation church.
For inquiries, please call Taiye (08165598747) or MaryEsther (08084725589).