792 Illegal Immigrants have been Deported from Nigeria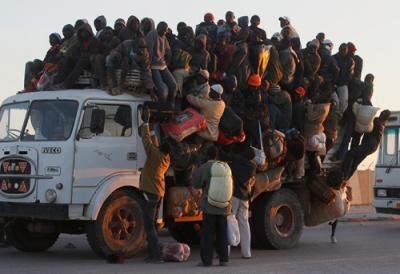 The Nigeria Immigration Service, Cross River Command, says it has deported about 792 illegal immigrants from the country and rescued 65 victims of human trafficking in the state in 2016.
The State Comptroller of NIS, Funke Adeuyi, revealed this when the Country Representative of the United Nations Office on Drugs and Crime, Cristina Albertin, visited Calabar on Tuesday.
Adeuyi said the illegal immigrants were captured at different borders of the state.
A proper background check was carried out on these immigrants and it was discovered that they had no legal permission to stay in the country. She also said during this period 55 illegal immigrants were denied entry into the country at different borders of the state.
She said between the of period of January to December 2016 they were able to deport about 796 illegal immigrants and rescue 65 victims of human trafficking. She said;
"Due to the contiguous nature of borders – land and marine between Nigeria and neighbouring countries, we have challenges of illegal immigrants coming in through irregular border lines outside regular control posts.

"We will, however, continue to police the borders to curb illegal migration, child theft and trafficking and other heinous crimes in the state.The UNODC is one of the partners of the NIS and we believe we can work together in the area of workshops and public enlightenment."
Adeuyi said that the command will properly investigate the transporters, boat owners and local communities to enable them stop child trafficking and child labour and others issues.
She also commended on the success of the command's activities in the state and the continuous efforts of the Comptroller- General of Immigration, Muhammed Babandede. She said Babandede had provided the command with the vital tools to fight trans-border crimes.
Albertin commented that UNODC had collaborated greatly with the NIS in capacity building of immigration personnel and donation of border equipment.