Did you watch day 2 of the Big Brother Naija reality show?
If you missed it, we've got the highlights for you!
**
Uriel's Birthday Task
During yesterday's Diary Session, Uriel received a secret Task from Big Brother, with strict instructions on the consequences. She spent last night thinking about whether or not to go through with it, and this morning decided to go for it. She took the piece of paper that was sitting on the table in the garden and went on to read out the Task to the Housemates – at the expense of her immunity for two weeks!
She said, "Big Brother would like you to work together to return [the items that are out of place around the house] back to their correct place in the House. Teamwork is the key to success in this."
Housemates then got started on the Task, by looking at the decorative articles that were removed from the House and tried to remember the original positions they were in. Their focus was directed at winning this specific task so as to offer some sort of solace to Uriel who has clearly placed her future in the House in jeopardy.
After the Housemates had replaced all the articles Biggie had taken out of the House, they all sat down to have their breakfast in the kitchen.
Suddenly, HoH Efe decided to interrupt breakfast with a special birthday present to Uriel; His HoH crown and royal ornaments to celebrate her day, and also thank her for going through with the Task that Biggie gave her. Sweet right? Or is it a strategy?
The Indomie Challenge
Each Housemate had to pair themselves till tomorrow evening to try to win this challenge. They could only discuss the task with their chosen partner and Biggie warned them to choose wisely.
Biggie's first challenge was cooking and each team got four packets of Indomie Noodles to prepare their meal with. They could use anything else from the fridge or cupboards, but they had to be mindful that their meals would be judged based on taste and presentation.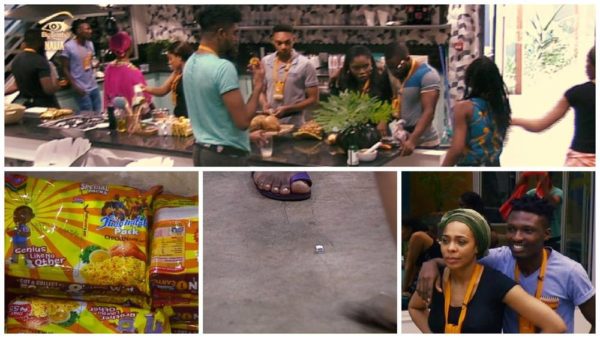 Diary Room
Biggie wanted to know a few things from the Housemates in today's Diary Sessions. Most of the housemates were happy with their partners in response to Biggie's questions and most thought that they would do well in the rest of the Tasks. Biggie also wanted to know who the Housemates trusted most and who they trusted least, Miyonse immediately said that "No-one can be trusted" even though he felt that he was getting on with everyone. Most of the Housemates felt that they were still getting to know everyone first before they could trust anyone.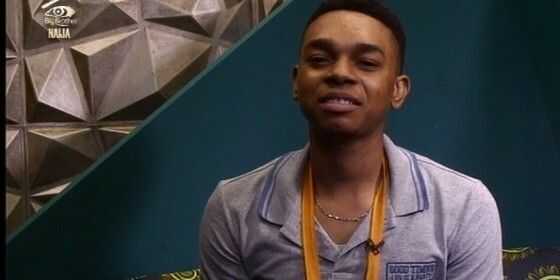 Kemen admitted that he fancied TBoss but was wary of losing her to Miyonse.
Biggie also wanted to know if there was any romance happening in the house. Bisola shared her feeling that Miyonse and TBoss' flirtation was on the surface and that Soma was drawn to Gifty.
Uriel seemed miserable and spent most of her Diary Room session complaining, completely unaware that Bisola had been given another secret Task to wait for Uriel to get into the Diary room and then go to the Party room and get everything out of there and take them into the House and prepare for her to come out and to give her a surprise party. Uriel burst out into tears as she confessed to Biggie that Kemen had been annoying her along with others in the House. She did confess to having the Birthday Blues, "Ï have to put myself first if I am to make it far in this house".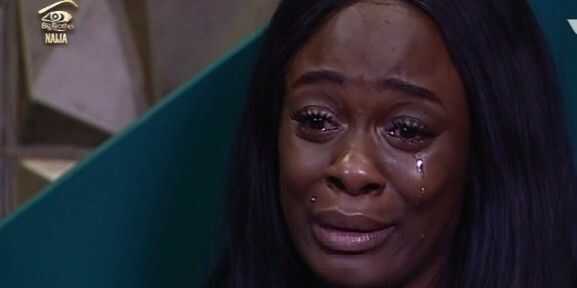 Evening Task
Biggie set an exciting and fun Task for the Housemates to compose and sing in a Nigerian language of their choice a song that reflected their pride of being Nigerian. they had to compose and sing in their pairs with one partner singing in the Nigerian language and then the other partner would have to sing it again translated into English.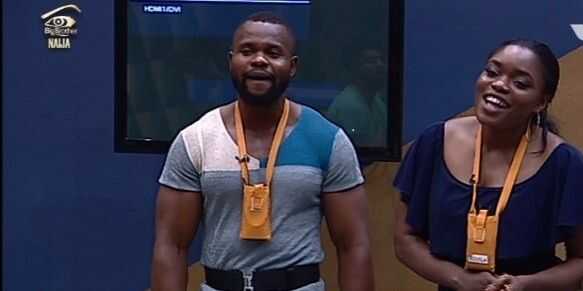 **
Did you watch #BBNaija today? What was your fave moment?