On a sunny afternoon in Lagos this week, BellaNaija Assistant Editor Ink Eze met with Maky Benson. She was an energy economist, but is currently a lifestyle blogger – www.makyscorner.com, author and public speaker.
Her career shift was one she stumbled upon. It was borne out of the passion to make her son home-cooked wholesome meals, and now she helps other parents with the same task through her first ever book, Micah's Meals.
The intelligent and multi-talented Maky is no stranger to the BN family! BellaNaija Weddings featured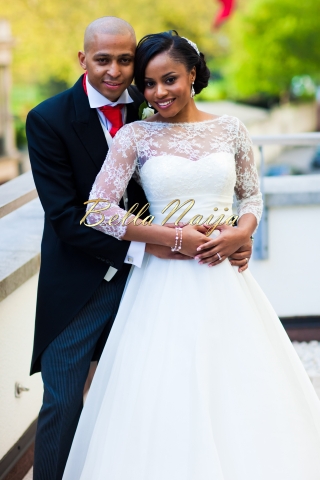 her and Yomi's romantic wedding journey a few years ago – click here to see.
The mother of two – Micah and baby Eli born last year, was gracious in a navy blue shift dress and long black tresses, as she deftly handled her bubbly beauty while answering our questions.
We only had 15 minutes to chat, as she's currently on a book tour in Lagos, so we asked about the legacy she's leaving her kids, pregnancy style and the business of baby food.
If you'd like to get a signed book or see her make one of the recipes live, she's having a demonstration at Ruff 'n' Tumble, G.R.A. Ikeja in two days – on Sunday 15th January – click here for more details.
But for now, sit back, read and be inspired!
***
BellaNaija Living: Let's start with your book, Micah's Meals. How did the journey start?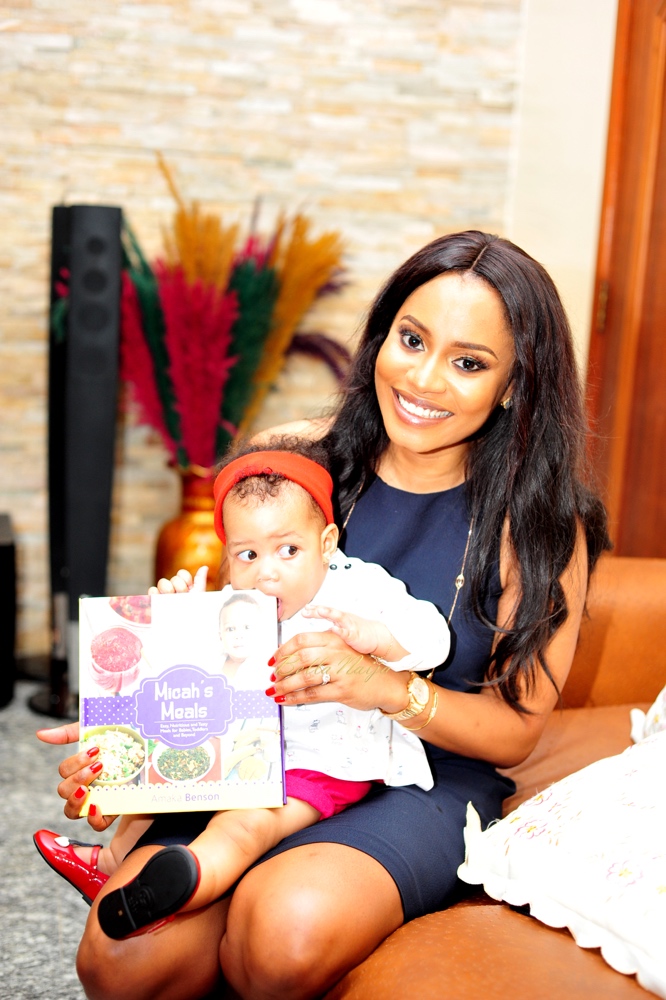 Maky Benson: The book really started from trying to give my son the best start in life. I never really thought it will come how far it has.
It was just me feeding my son healthy meals, and it just grew organically from there.
So from doing his meals I started the blog Maky's Corner and from then on I just started posting step-by-step photos online and the response was very positive.
Moms were sending me messages like, "I tried this recipe and my daughter loved it", "Your weekly menu plan has helped me" and so people started putting the seed in my head, like, "oh you should write a cookbook" But for me, it wasn't something I ever thought of ,not something I went to school for. Writing or being an author is not something I thought will happen.
So about a year after, I started doing research. Seeing how positive the response, and seeing how healthy my son was, seeing him enjoy his meals, I was encouraged.
There were sometimes I would cook for him and in my head I thought, "every baby needs to taste this".
"Every baby needs to experience homemade meals as well", which I'm very passionate about and it's just grown.

I think the first idea someone put in my head was to package baby food but I was like that's not really what I'm about, it is all about fresh food.
So instead of selling packaged food why don't you give them the tools they need to make this food at home? And it basically just grew from there.
BN: That's so inspiring how your passion for feeding your son good food turned into helping other moms feed their kids healthy meals.
Is Micah's Meals targeted at all moms?  Stay-at-home, working, etc. How easy is the book for moms with busy lifestyles who may find it easier to use packaged meals?
How will Micah's Meals influence them to do things differently?
Maky Benson: My book is not targeted at only moms, I think it's targeted at parents. So dads, moms and caregivers too. Because for me its important that what you do at home your child continues in school, so if you are giving your child healthy meals at home they should also be eating healthy in school. And I feel like the role of parenting is not limited to just the mom, I feel like dads can help as well. Like now my husband is in Geneva with my son and he is the one prepping his meals and he is doing it from the book so I feel like it's not limited to moms. And when people say stay-at-home moms, working moms, working-from-home moms, I feel like every mom is busy.
If I'm being honest I feel like every stay-at-home mum is very busy.
I don't think because it's convenient it's the best thing for your child – (I'm talking about packaged food).
I mean I've worked full time, when I had no help, no husband around and I still made my son fresh meals. That's the great thing about the book it gives you tips for wholesome homemade baby food and tips on how to make food in bulk so you don't have to spend hours in the kitchen cooking every day.
For example when I was coming back to Nigeria I knew it was going to be busy for me, so a couple of nights before I flew in I made enough meals to last my daughter for one week.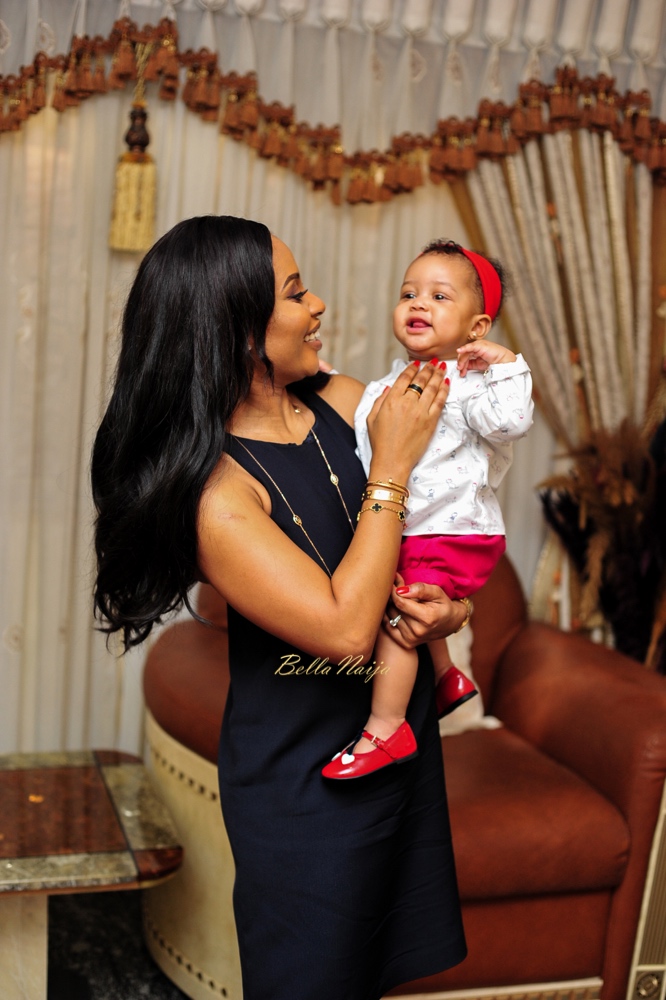 And then last night I spent another two and half hours cooking for the next week, so you can be busy and you can still give your kids the best meal.
BN: Agreed! So what's next for Micah's Meals in terms of merchandising and all of that?
Maky Benson: To be honest i think I'm still wrapping my head around it. I haven't come to terms with all of this so for me right now the focus is just getting Micah's Meals in every home. I think I'll be happy when you go in one in every couple of Nigerian homes and there's a copy of Micah Meals. And not just getting it in the homes but getting people to actually utilize the book and enjoy the book and really appreciate the book and for me I'm not really looking at things from a business point of view or trying to make money, for me now it's just to enjoy the whole process.
BN: Being here in Lagos right now with definitely help with that. So delving into the book itself, what is the best Nigerian meal you recommend for toddlers and kids?
What would you say is the 'perfect' source of nutrition, taste, and everything?
Maky Benson: I really love African soups and people always say they are not healthy or they're too oily, but guess what? That's what kids need. They need the calories, they need the fat, they need all of the good stuff. For us older people we might say, "don't use red oil." But for them you can do all of that, so I really like African soups.
The best soup for me is the mixed Okra, which I have in the book cause it has mackerel, salmon, bell peppers its really delicious and can be paired with amala, very soft amala which is healthy and soft so it's easy to swallow.
BN: Now on to fun stuff, as a Yummy Mummy, your BN Style Your Bump edition – click here to see it! was one of the most popular ones. Can you tell us your top tips for nailing pregnancy style?
Maky Benson: I really don't know if I'm the best person to ask, because for me the key to my pregnancy style was comfort, especially as I had a toddler so I needed to be practical with things I was wearing while trying not to look like I'm suffering. I also like shift dresses and so I wore a lot of that during my pregnancy, so of all comfort is key and don't try too hard.
BN: Talking about your toddler Micah, are you going to do anything in your daughter's name seeing that you have a book in your son's name?
Maky Benson: I actually have done something in my daughter's name, something I am passionate about as well but that's a private project 🙂
BN: Lastly, is there anything you want to say to BellaNaijarians, especially new mums looking up to you?
Maky Benson: For new mums, I'll say just enjoy the process and trust yourself. Especially as a new mum in Nigeria, you get all sorts of opinions and people butting in but it takes self-confidence to believe in your decisions. So I'll say for every mum and in life in general just trust your gut and believe in your process. This doesn't mean you shouldn't be open to opinions, good suggestions and help, but trust yourself.
BN: Thank you Maky! 
MB: Thank you BN for having me!