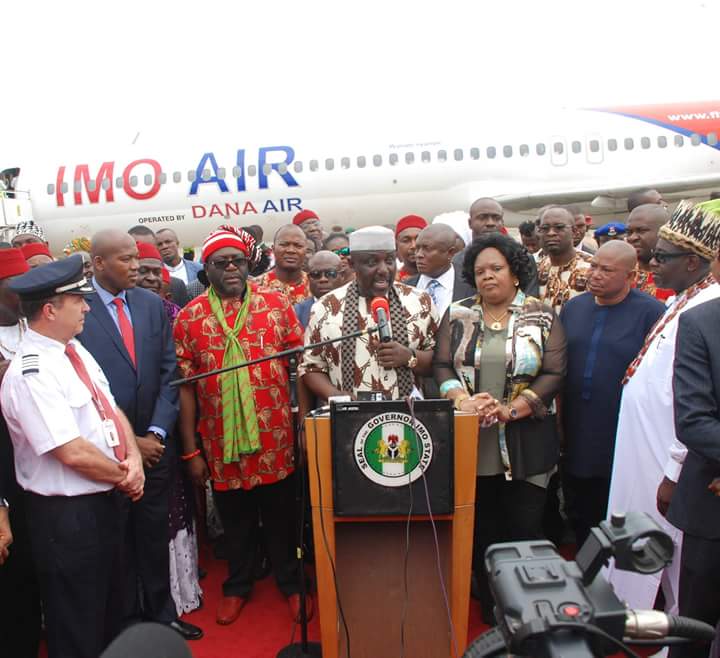 Imo State Government has entered into a partnership with Dana Air to launch Imo Air, to be operated by the airline.
The airline Communications Manager, Kingsley Ezenwa, made this known in a statement in Lagos on Tuesday.
According to Ezenwa, Governor Rochas Okorocha of Imo said that the contract will last for 10 years.
"It is borne out of our desire to increase business activities in Imo, improve tourism drive, diversify its economy and provide employment opportunities for our citizens.

We have no Air Operator Certificate and that is why we approached one of the leading airlines in Nigeria to manage this service for us.

We believe that our partnership with Dana air to operate Imo air is a step in the right direction to open Imo State to the world," Ezenwa quoted Okorocha as saying in the statement.
Okorocha also said in the statement that the Imo International Cargo was in the offing as part of the initiatives to open up Southeast to importers and exporters.
He said this will reduce the over-reliance on Lagos, Kano and other international airports for the export and import of goods into the country.
"This initiative is no doubt a boost for the Southeast economic liberation struggle,'' Okorocha said in the statement.
The maiden flight of the airline landed at the Sam Mbakwe Cargo Airport, Owerri at about 11.42AM on Tuesday.