#BBNaija: Day 28 – Biggie the Quiz Master & An Eviction
It was another tough week for the housemates!
..
Eviction Diaries

A cool, calm and composed TTT opened what could be his last Diary Session with a touch of humor; sharing his hope that this would not be the last time he came to tease Biggie. While he also expressed his thanks for the perks of a haircut that he said made him 'look like a human again', he was quick to shoot at Marvis whom he thought would be leaving the House. For TTT, Marvis should go because she lacked girly manners to his liking. He said she was unique in a tomboyish way and rolled with guys very well to the point that she was like 'another guy'.
Gifty almost crawled into the Diary Room, immediately confessing she was feeling awkward because she did not want to go. Amusingly she also seemed to believe Marvis would be going home yet half-acknowledged that she "must have something special" to have been nominated twice by Housemates. Gifty admitted she had gotten comfortable in the House and dreaded returning to the daily grind and hustle of her life.  Until Biggie reassured her that she was a star, Gifty simply believed the world outside didn't have anything to offer her! Upon hearing Biggie's soothing and encouraging words, Gifty softened up, and in a syrupy-sweet voice said she desired power and fame and wanted Big Brother to help her attain them. Gifty ended by saying that she was "at his service".
As for Marvis, she marched to her session humming "Please vote for me guys! There's still time to vote". Oozing confidence and equal to her fun self, she told Big Brother she had been herself all through and it's always enough. Behind her laid-back and approachable attitude, Marvis casually revealed her very selective nature when she disclosed that she had only made a few friends in the House as opposed to TTT for whom friends automatically became family.
It's Biggie, the Quizmaster
Apart from the small matter of tonight's Evictions, Biggie told the Housemates that there would be a high stakes game with amazing prizes. The three Nominated Housemates, Fake Housemates and Bally (because he has the Green Advantage Card) were not included in the quiz. There were some amazing rewards on offer as well as another big advantage.
The stakes couldn't be higher as Ebuka revealed the rewards on offer. Firstly, immunity from Nominations for the week ahead as well as a traditional Nigerian feast of the winner's choice. Over and above these awesome prizes, the lucky Housemate could win a PayPorte shopping voucher worth 200 000 Naira and 300 000 Naira in cash, a bowl of ice-cream, 28 BBNaira to shop for luxury items during the coming week or a slab of chocolate all thanks to PayPorte.
The Housemates were chosen randomly with Biggie's Ninja entering into the House with a bowl with seven numbers and three numbers were to be chosen from the bowl. The Housemates were given numbers to hold up with Bisola, Bassey, and TBoss being chosen by the auditor and they were whisked off to the Live Stage.
If the Housemates answered their questions incorrectly they could be up for automatic Nomination for the week ahead. Over and above that they would have to do a whole host of Tasks in the House such as sweeping duties for the week, become the Joker for the whole of the next day. As if that was not enough, Ebuka informed them that they might have to wash dishes for a full day and they could not receive any messages from home. The prizes were all in two bins, one was the Win Bin and a Lose Bin.
Bisola was the first up and won immunity from Nomination next week with her correct answer of who the first person in the Diary Room was, which was TBoss. Bassey was up next and he was asked how many robotic cameras there were in the House and he answered immediately "29" which was correct. He won a traditional Nigerian dish of his choice. TBoss, unfortunately, didn't get her question right which was "How many windows in the Arena" and she had to pick from the Lose Bin. She learned that she had to wash the dishes in the House for the next week. TBoss got off lightly as she could have been up for Nomination.
The Eviction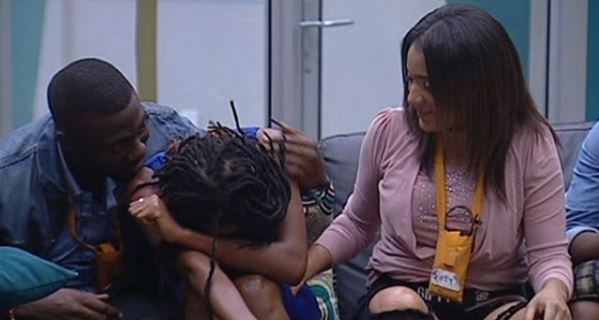 A relieved Marvis collapsed on the sofa next to Bally after Biggie Saved her.
This was the third Eviction that Housemates had lived though and they had grown accustomed to the pace.
As the actress that she is, Gifty couldn't have planned for a grander exit. She had saved her best act for the last: when Biggie called her name, she swiftly walked towards the door, without blinking or looking back as if she was in a hurry to leave the shark tank that the House had become for her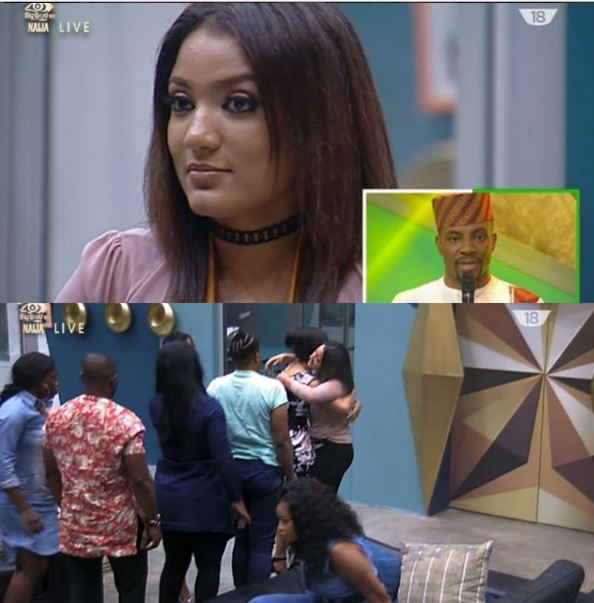 One could have heard a pin drop as no one in the House had shed a tear, shouted, jumped or collapsed. None of the dramatic scenes that had livened up Evictions ushered Gifty out.
It was deadly quiet.