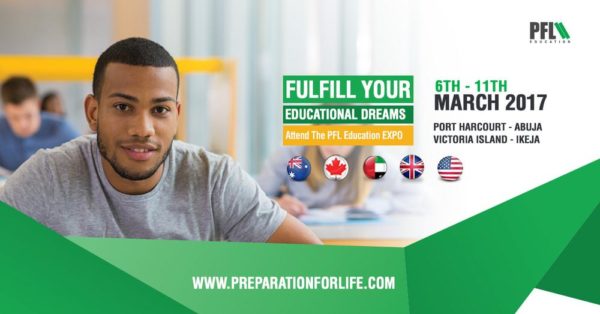 The most successful people in the world will tell you that the future belongs to those who believe in the beauty of their dreams!
However you look at it, the will to pursue your dream will always bring you success.
At PFL we are devoted to helping our students fulfill their dreams.
We have been fulfilling dreams since 1997 and in our 19 years of experience, we have seen over 40,000 students in Nigeria. We have helped them visit new educational horizons in the USA, UK, UAE, Australia and Canada with a 98% visa success rate.
PFL provides these students a reliable platform to choose from over 250 universities for Undergraduate, Masters, Post Graduateand Pathways programmes.
We made their business our business and their dreams, our dream and this is what they have to say;
"Using PFL for admission and VISA consultation made my admission process faster and my visa process as efficient as it can get.
The personnel tasked with communicating with the school I choose was always on hand to assist me and provide me the needed information for my admission process.  After the admission the PFL staff that assisted me in filling my VISA application was also very professional and my VISA was issued in less than 10 working days. I would always recommend PFL to any student seeking admission, as they were very helpful and professional. "
Denis Aku.
Masters in Engineering Management,
University of Queensland,
St. Lucia Brisbane, Australia.
PFL is at it again, we are currently in search for more dreams to fulfill, the kind of dreams that goes places. If you think you have that, you are invited to our next exhibition where you will meet with University Delegates/ International Expert Advisors Visiting From Australia, Canada, New Zealand, UK, United Arab Emirate and the USA and get expert advice on your options and exams (IELTS and Pearsons). Click here to register for free: https://goo.gl/81eVRU
Exhibition Schedule:


If you can't make it down or you need further clarification, send an email to [email protected] or call 0700PFLCARE (09094031476)
You can also contact on us the following platforms:
BBM Channel- C002ADCE3
Facebook: PFL Education Nigeria
Twitter: @pflnigeria
Instagram: @pflnigeria
Website: www.preparationforlife.com
—————————————————————————————————————–
Sponsored Content