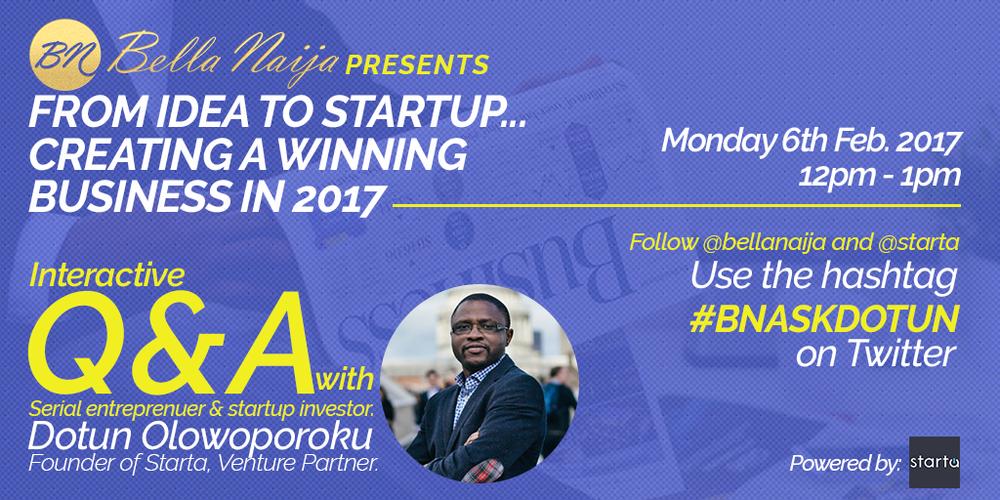 Are you an entrepreneur or you want to be one?
BellaNaija will like to see your idea bloom into a thriving startup and then take your startup from promising to winning.
If this is part of your plan, you need to logon to Twitter tomorrow at Midday.
BellaNaija is holding its first Question and Answer Session for 2017, and our guest is Dotun Olowoporoku.
Dotun is a growth-hacking, entrepreneurship & development expert, and you get the chance to ask him ANY question relating to entrepreneurship & creating a sustainable business model.
Date: Monday, February 6th 2017
Time: 12PM – 1PM
Venue: Twitter and the hashtag is #BNAskDotun. Follow @startaHQ and @bellanaija
This Question and Answer session is a buildup to a competition to attend the Side Hustle Bootcamp supported by BellaNaija.
Click HERE to register/apply to attend the bootcamp.
About Dotun
Dotun is the Managing Partner at Starta, a platform that makes it easier to build, discover and track high growth businesses in Africa.
He is the founder of Yhello Technologies an on-demand food delivery platform in the UK. He was responsible for investing in early stage startups in Africa via Potential.VC, a UK-based angel syndicate fund.
Dotun teaches and facilitates growth hacking workshops for startups and SMEs. He is the co-founder of High Growth Africa Summit, a two-day conference dedicated to teaching entrepreneurs how to build, scale and fund high growth businesses in Africa.
He was the recipient of 2014 Southwest England Breakthrough Business Prize, and has been identified as one of the 42 under 42 most influential business person in Southwest England.
Dotun has a PhD in environmental management and worked as a Post-doc Research Fellow, but found it more interesting to be a startup pirate than join the academic navy.