Nigeria struggles with a million and one problems, but one of the most prevalent is the issue of drug trafficking. However, with special task forces and laws regularly springing up to combat this trend, it would seem that some headway is currently being made.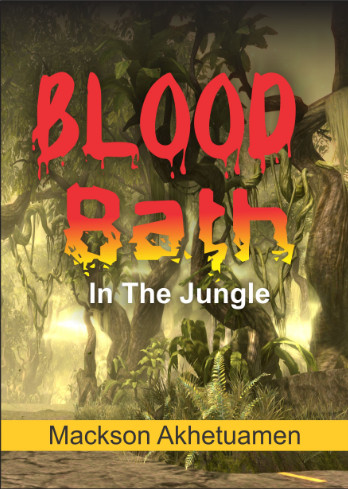 There's a lot of insight into how law enforcement agents apprehend drug traffickers, but, in reverse, information about how these gangs operate is scattered, flimsy. Although fiction, Mackson Akhetuamen's Bloodbath in the Jungle is one of the few books that tear through the veil hiding the activities of Nigerian drug trafficking cabals.
Bloodbath in the Jungle is a suspense filled thriller that straddles the world of crime and law enforcement. With different viewpoints swinging from the struggle of the everyday Nigerian, to love, to the determination of patriotic Nigerians to make the country great, it's a book that delves into societal issues and unashamedly wades through the mire.
We are introduced to a cabal through Lugard, a transporter who is wrongfully detained for drug trafficking. He is tortured while in custody and only released when some strings are pulled by cell mates. However, in exchange for the freedom, he is to execute little tasks when he leaves detention. After an introduction to a drug lord aptly named The Boss, one thing leads to another and he joins the gang full time.
The Boss is a terror in his own right. With informants in the Drug Enforcement Agency, supporters in high places, and charms supposedly protecting him, he manages to successfully ply his drug trade wherever. Under his government, you conform or are killed. There's no such thing as forgiveness.
Told from the viewpoint of the cabal and law enforcement agents, the readers are made to interact with both points of action. Suspense is well served as we are taken through high speed chases, elaborately planned raids, and intelligent thinking from both sides of the divide. High tension action is the order of the day, and there is always mischief afoot.
Bloodbath in the Jungle helps contextualize the real gist behind the allure of drug pushing and the seemingly easy money it brings. You'd definitely like this if you're an unapologetic thriller buff and would like to see The Godfather, Nigerian style.
Looking forward to reading about stakeouts and rowdy rumbles? Download Bloodbath in the Jungle from the OkadaBooks App now.
Chiamaka Onu-Okpara is a freelance editor with an absolute love for anything weird. When she isn't wading through punctuation errors, she binge-watches cartoons and writes speculative fiction.
Send her a friend request on Facebook
Email her at [email protected]