Governor Nasir El-Rufai of Kaduna while answering questions at the "Technology as a Policy Imperative" event at the Social Media Week Lagos 2017, spoke, for the first time on his 2012 tweet that has been classified as inciting.
See the tweet: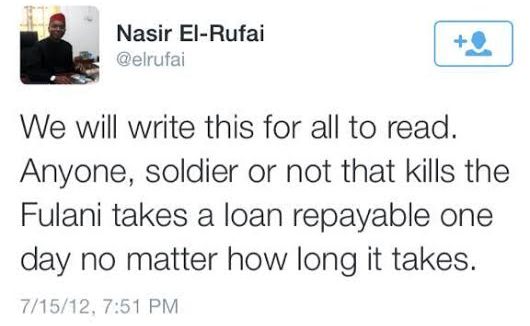 The tweet became more popular after Chocolate City boss, Audu Maikori was arrested and detained for 24hours for posting a false story on social media about the killing of five college of education students in Southern Kaduna.
Audu later apologised for posting the story, adding that his driver relayed it to him saying his (driver) brother was among the victims.
Audu was arrested on the grounds that it is capable of inciting reprisal attacks and prolonging the crisis.
El-Rufai, during his speech, added that Audu and others will be prosecuted for their roles in the crisis.
People are making reference to what I tweeted in 2012. What did I tweet? I tweeted that any person, soldier or not, that kills a Fulani, takes a debt that will be repayable in 100 years. It is a statement of fact. It is not a threat. It is not an incitement to violence and there is a context to it. In 2012, the General Officer commanding of 5 division of the Nigerian Army in Jos, gave an instruction that it behooves on the governor of Plateau state to wipe out two Fulani settlements just outside Jos on the suspicion that they have weapons.

This was reported by the governor of Plateau state and the commander gave the order and I heard about it. I called and said please don't do that. Go and surround the place and search for weapons. But that was not the objective. The Objective was to remove them from the settlement because they are settlers and people that think that that land is their ancestral land, want to take the land. It is not because they had weapons.

Now I know the nature of the nomadic Fulanis. My great great grand parents used to be such people. If you kill any of them unlawfully, they organise to take revenge no matter how long it takes. Now for me, the danger is that if the Nigerian Army goes and wipes out a Fulani settlement, any person wearing a Nigerian Army uniform in 14 West African countries is at risk because these Fulanis may have relations in Mali, Ghana, Sierra Leone, Guinea, and word would go round that the Nigerian Army has created genocide against the Fulanis and anywhere you see a person wearing a Nigerian Army Uniform, is a target for retaliation and I warned the commander that this will happen.

He did not listen and that is why I put it on the record so that when it starts happening, nobody would say he was not warned. Ultimately because of that tweet, the commander retracted his plan and they went and surrounded the settlement and searched for weapons and found none. To me, what I did averted a potential disaster but that is being put as if I tweeted something inciting anyone. If you don't believe what I tweeted, go and do what the army wanted to do and see the consequences.
On Audu Maikori's false story:
Audu Maikori rushed to publish a false story without checking with anyone. But before then, he had been posting fake pictures by posting Boko Haram attacks, Rwanda genocide as Southern Kaduna killings which elicited a lot of emotions on social media.

But more than that, what he posted may have led to killings and we are trying to link the dates of the posting to attacks that may have happened the next day on Fulanis and if we are able to establish that causation, as lawyers, we know what it means. It is totally irresponsible to do that.

And even when pointed out to him that this information is not true that the College of Education does not run a mass communication programme and that the school had been closed down since November, he still posted that he stands by his story.

He questioned the authenticity of the press statement. He was totally and completely irresponsible. He is going to be prosecuted. He was arrested. His statement has been taken. His fate will be decided by a judge. Its not Nasir El-Rufai. Its nothing personal. I have nothing against him. He has worked with the state government in the past.

Since we started going after people that are posting these fake pictures, we have had some sense of moderation. You cannot rush and use a platform like that without checking becaus ethere are two sides to this conflict because anything you post can elicit a reaction from one of the sides.

So we should at least be sure that what we are posting is true. And there are ways of checking, call the police or other authorities. You are rushing to get retweets and followings without regards to the fact that what you are doing could lead to more violence or loss of lives.

I am the governor of the state. I am not in this game to get following. My responsibility as governor of the state is to ensure the security of lives and property of the state and I will not allow anyone, even my own son, to do that kind of thing without consequence
WATCH: