Did you watch Day 49 of the Big Brother Reality TV show?
If you missed it we've got the highlights for you!
..
It was a double dose of Afro-beat hits on the Live Show stage, as Iyanya and Tayo wowed the audience.
First on stage was Iyanya with a medley of his popular tracks titled 'Up 2 Sumting' and 'Mr Oreo'. The crowd went wild with excitement, as he and his male dancers hit the stage, mesmerizing them with their dance moves.
After catching up on the week that was with Ebuka, former Big Brother Africa Housemate and now musician, Tayo hit the stage with his song 'No Calling'. He too dropped a few dance moves on stage.
Donned in an orange jacket, Tayo gave the audience a second dose, singing his song titled 'Dakun'. Closing off the night on stage was Iyanya. His last performance was something out of a movie, as he invited an audience member, serenaded her, danced, gave her a bouquet of flowers and further picked her up at the end of the song.
Tayo returns to the Stage

Nigeria's favorite son, Tayo returned to Biggie's stage earlier this evening with an electric performance of his hit song "Dakun." After a second performance, Ebuka invited him back on stage to catch up with him and see what he has been up to.
Ebuka asked Tayo to tell him about his experience in the House saying "How was the journey for you?" Tayo responded by saying "I knew I was going to make fans but I didn't expect so much love." He added that it had been rough at times but in general it had been amazing for him.
Ebuka carried on saying that the show was a couple of weeks away from the finale. He asked Tayo what he thought was going througth his mind toward the end and he said that he wasn't thinking about the money until the very end where he was tired and opften got angry. He said that he had to remind himself not to let himself and Africa down.
Tayo then gave some advice by saying that the Housemates should never lie to their fans. He said that "I kept being myself, don't deceive your fans. Nobody wants to associate with you if you have no fans." He said that it would be difficult to get endorsements and success if they didn't have any fans.
Ebuka then asked Tayo what advice he could give to the Housemates as well as the evictees. He said that "Money will finish. What is left are your fans. I still meet people from when I was in the House. Make your fans fall in love with you."
Housemates give their all for the ONE campaign
The Housemates delivered one of the most moving renditions of the song "Let's educate a girl… together we can be One" for the audience on the Live Show.
On the front row, Bassey and Marvis were drumming next to Debie-Rise, her soothing voice and her inseparable guitar.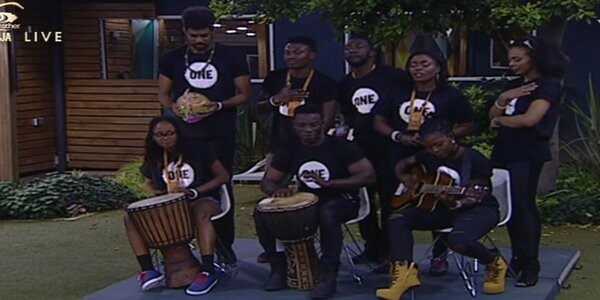 Earlier in the week, Housemates had positively impressed the ONE judges who had expressed deep satisfaction in the various presentations.