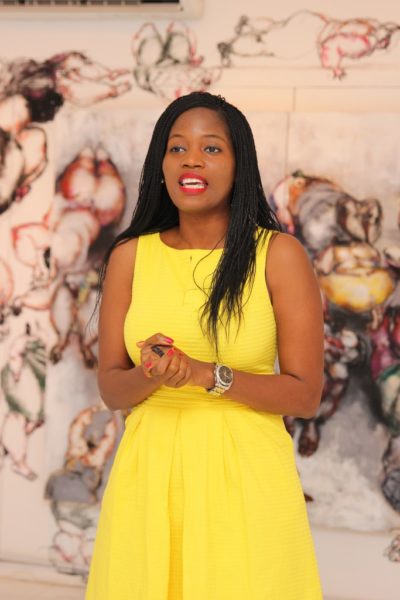 Adenrele Sonariwo is an arts curator, and the founder of Rele Arts Gallery in Lagos, Nigeria. As part of the activities to mark International Women's day this year, we reached out to her for an insight regarding being a female entrepreneur in the contemporary art space in Nigeria.
'Denrele describes herself as a 'lover of the arts'. This love, however, did not come overnight, but it has bloomed over the years. While she was in the corporate world, and looking for an outlet for expression outside of work, art found her.
When asked to describe what it is like to be a young business woman in the arts, she says simply: "I stand on the shoulders of trailblazers who have come before me, paving the way for us younger ones to thrive."
In speaking about female mentors in the arts that she looks up to, she said: "I look up to Marian Goodman, a galleries, and Thelma Golden a Curator – both very well respected and influential. I look up to them because of their quiet strength and longevity in the arts industry. I think what is really profound for me even as we celebrate International Woman's Day with a theme of #BeBoldForChange is understanding that boldness can be subtle. And with these 2 women I love the subtle, not in your face way in which they have owned their spaces. They are my mentors in my head, I follow their work and read about them. It will be the honour of my life to meet them in person.
In the Nigerian space, I really like Mama Nike Davies-Okundaye, female power artist and owner of Nike Art Gallery.  Her spirit is simple amazing and endearing. There's also Mrs Bolanle Austen-Peters (Terra Kulture), Mrs Sandra Obiago (SMO Contemporary) and Mrs Sinmi Ogunsanya (MyDrim Gallery), who have been in the arts industry here in Nigeria for decades. I admire them…from afar."
However, Adenrele is setting the stage to be a trailblazer herself;  her gallery, continues to host diverse contemporary art highlighting women. Recently, Rele Gallery was home to five young female artists as they displayed their work in an exhibition called 'Her Story' . The artists Oluchi Chuks Zom, Queen Nwaneri, Buki M. Animashaun, Ayoola Kekere-Ekun and Haneefah Adam, flew the flag of feminism and through their work, they show the power of being women.
On speaking of Rele gallery's attention to an all-female cast exhibition, Adenrele noted that this was the second of its kind. "We did one like this last year and accompanied it with something we title Rele Mentorship March. They are free Mentorship sessions given to young females. We're going to do it again this year."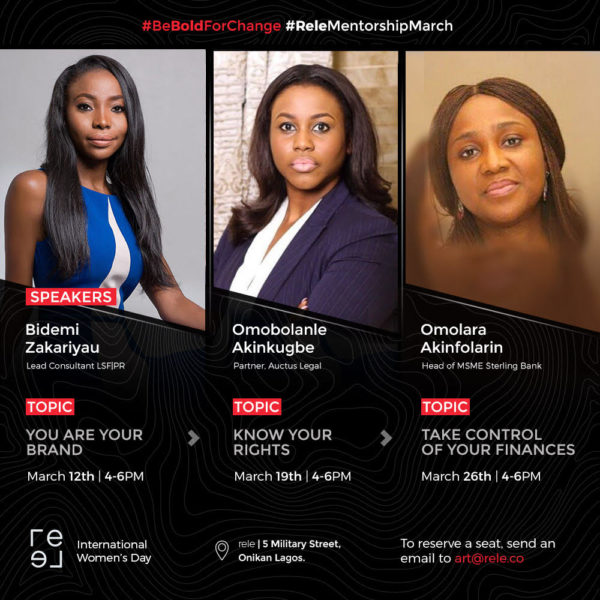 Her Story is described in the Rele press release as "… an expression of diverse stories to create awareness and also propagate conversations. Each artist brought to canvas a unique expression of their stories through the eyes of a woman. Going further than just story-telling, the exhibition sought for a celebration of feminine virtues; the quiet strength in survival and sheer joy from the victory of conquering. It was an female art exhibition that celebrated feminine virtues, the quiet strength in being a woman, and the joy from the victory of conquering.
Adenrele spoke of what inspired the selection of these artists, stating that the intention was to show a unique group of artists, working in multi-dimensional mediums to share their varied stories. She went on to explain further: "It was personal and very important that we saw through their eyes and expression. We wanted them to share with us stories they wanted to tell, as a female and as an artist."
Adenrele noted that art is very important in the quest for equal rights for women because "art can be used as soft power to draw attention to, and to significantly influence, matters that affects us women."
As a curator of art, she is doing her part to make sure that women are empowered, well represented, and certainly not left out of the narrative. However, as a woman within the socio-economic dynamics of Nigeria, one wonders how Rele has continued to make such impressive strides.  To that, she responds without a pause: "I never think a door is closed to me because I'm female. If a door doesn't open, I look for means to break it down. In the words of Kerry James Marshall, we have to take our seat on the table we want, no one is going to open the door for us. I don't spend too much time thinking if I was female…., this could mean as they say, that I'll need to work twice as hard. Sure, it builds up more character in me, but I've seen this pay off in my ability to adapt in most situations. "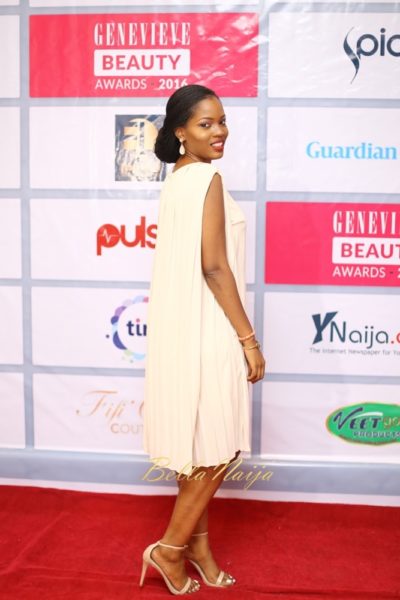 Women's rights to her as a business person is simply asking to be treated as an entrepreneur, and to be given the same opportunities as a male entrepreneur. As a young entrepreneur, women's rights means to be given a chance to live her life on her own terms, and not to be discriminated against.
So where does she see women in the arts in the future of Nigeria? " I see us becoming bolder, more visible and super influential."