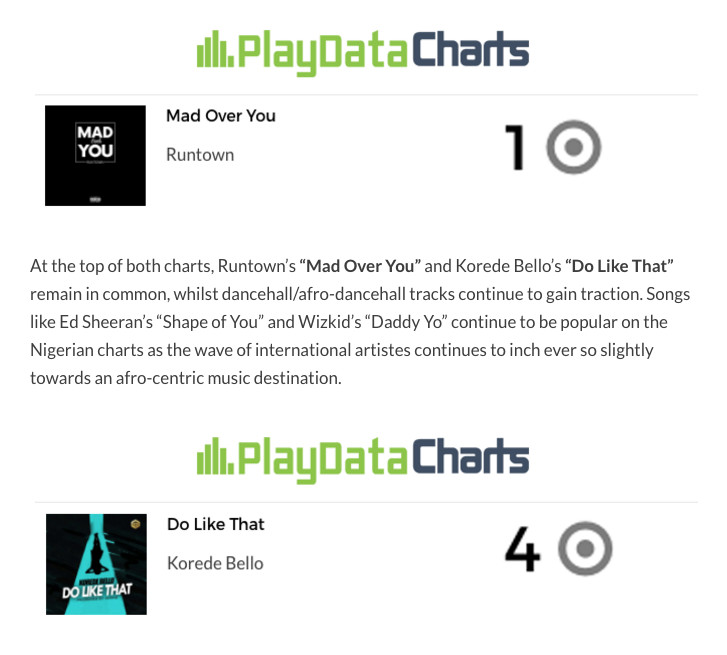 It's week 9 of 2017 and PlayData has the Most Played Songs in Nigeria for yet another week.
 They have also published Week 7 of the YouTube Nigerian Charts.
At the top of both charts, Runtown's "Mad Over You" and Korede Bello's "Do Like That" remain in common, whilst dancehall/afro-dancehall tracks continue to gain traction. Songs like Ed Sheeran's "Shape of You" and Wizkid's "Daddy Yo" continue to be popular on the Nigerian charts as the wave of international artistes continues to inch ever so slightly towards an afro-centric music destination.
Essentially, the exposure provided by Wizkid's alliance with OVO music, and Tiwa Savage's recent RocNation deal, will (if properly nurtured) help bring African music and its subgenres to the main stage of international music recognition.
Wizkid's "Ojuelegba" and Phyno's "Fada Fada (Ghetto Gospel)" are currently the oldest songs within the top 20 of the PlaydataCharts Week 9 Chart. This is remarkably significant from a Nigerian music perspective, especially at a time when Nigerian artistes are starting to move away from Afrobeat in order to converge with international artistes at Dancehall (or Afro-Dancehall in some cases).
This is a mistake, as the charts prove that at the core, Afrobeat songs have more staying power on Radio Play and request lists at home than a Dancehall song would have both home and abroad. Case in point, Ayo Jay is nowhere to be found on the PlaydataCharts Week 9 Chart Top 100 even though he has two brand new songs out ("The Vibe" and "Want You"). Granted, this could be as a result of lack of marketing, but it's also significantly indicative of a lack of OAP interest and radio listener requests.
The future of Afrobeat music is currently at stake, and it'll be interesting to see which international artistes from the West will embrace afrobeat in its full form, Fela, keyboard, percussion and all.