Hello BellaNaijarians!
The weekend is almost here, and the list of all the exciting events happening this weekend is ready.
Scroll through to see.
For all the events happening near you, be sure to follow @bnrsvp on Instagram.
To have your event featured, send an email with details of the event – Theme, Date, Time, Venue and a short description – to events (at) bellanaija (dot) com.
**
Django Girls
Are you a female, interested in programming? Do you live in Anambra or anywhere around the east? This is for you. Build your first website with Django and Python.
Date: Friday – Saturday, May 26 – 27, 2017
---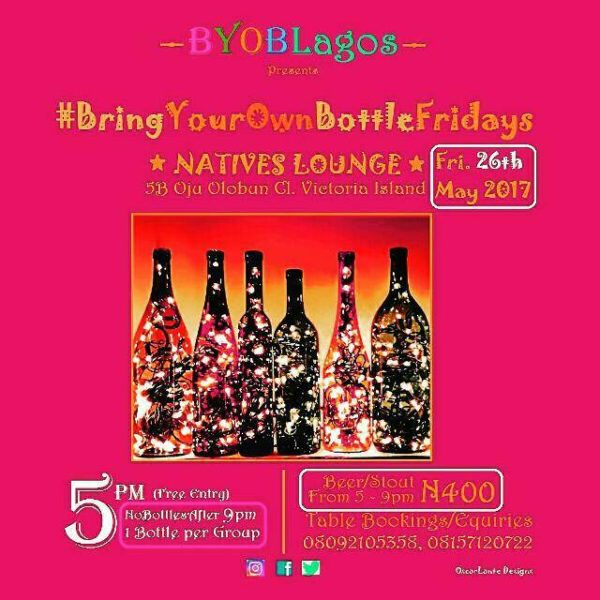 #BringYourOwnBottleFridays
It's a habit. It's a culture. We love to party! We turnUp last Friday of Every Month. You can BringYourOwnBottle before 9PM #AfterWorkChilling.
Date: Friday, May 26, 2017
Time: 5PM
Venue: Natives Lounge, 5B Oju Olobun Close, Victoria Island, Lagos.
---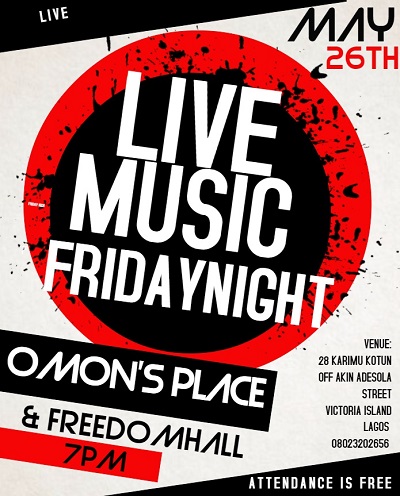 Live Music Friday Night
Freedom Hall Lagos and Omons Place presents Live Music on a Friday Night. This event is an opportunity to enjoy great music.
Date: Friday, May 26, 2017
Time: 7PM
Venue: Omon's Place,28 Karimu Kotun Street off Akin Adesola Street, Victoria Island, Lagos.
FREE Entry.
---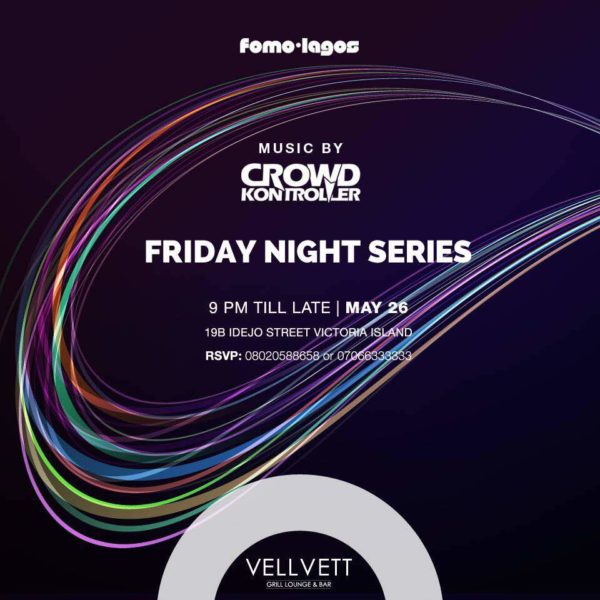 Fomo's Friday Night Series
For the long weekend!The #mustblow Crowd Kontroller is ready to blow your minds!
Date: Friday, May 26, 2017
Time: 9PM
Venue: Vellvett Lounge, 19B Idejo street, off Adeola Odeku, Victoria Island.
Entry is FREE! Music by Crowd Kontroller.
---
Port Harcourt Literary Society Children's Day Celebration
---

Nigerian Drivers Conference and Exhibition
Date: Saturday, May 27, 2017~
Time: 9AM
Venue: Ace-Olivia Hall, 2nd Floor, City Mall, Onikan, Lagos.
---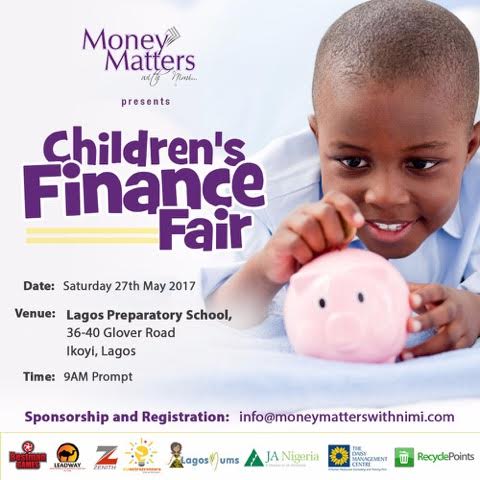 Children's Finance Fair
As you are aware, there is no financial instruction in our school curriculum; we must thus be proactive about enlightening both parents and guardians and their children and wards and introducing financial concepts, products and services as early as possible. This will give our families a better chance today to achieve a financially secure tomorrow.
Date: Saturday, May 27, 2017
Time: 9AM
Venue: Lagos Preparatory School, 36-40, Glover Road, Ikoyi, Lagos.
---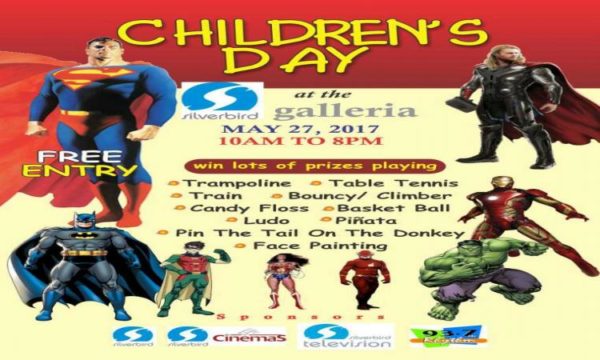 Silverbird Children's Day Special
This colorful and captivating event for children, which will feature a Movie experience, Music with super hero characters, Raffle draws, Games, Food and Drinks. We are offering this fun package for a discounted fee of N1,000.
Date: Saturday, May 27, 2017
Time: 10AM – 8PM
Venue: Silverbird Galleria, 133 Ahmadu Bello Way, Victoria Island, Lagos.
---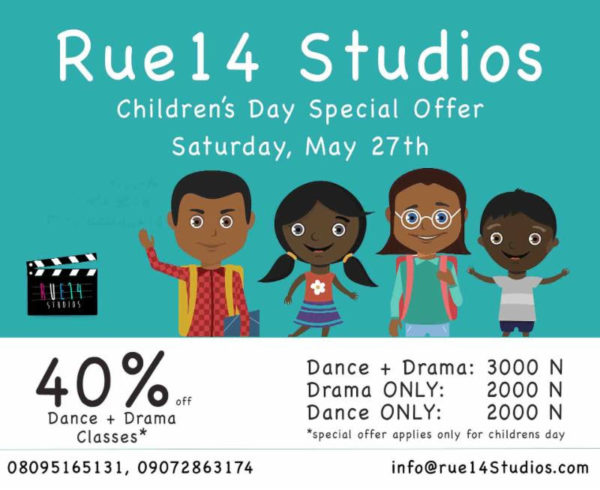 Children's Day at Rue14 Studios!
Rue14 Studios is celebrating children's day with reduced price classes! Don't miss out on this special deal. Dance and drama classes just N3,000 Naira.
Date: Saturday, May 27, 2017
Time: Classes run from 10AM – 2PM
Venue: 16 Africa Lane, Lekki Phase 1, Lagos.
Reserve your spot TODAY, Call: 09072863174, 08095165131  ||   Email: info@rue14studios.com
---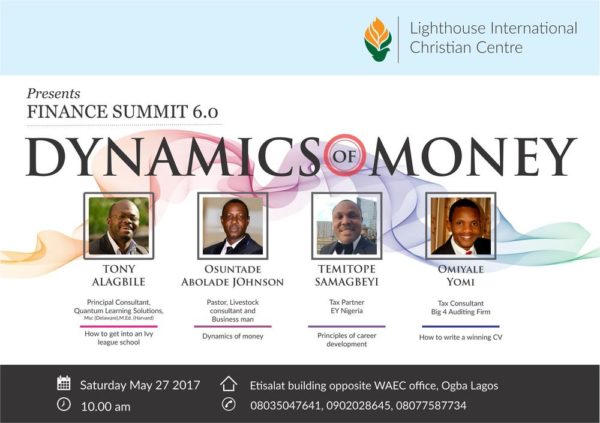 LICC Finance Summit
Date: Saturday, May 27, 2017
Time: 10AM
Venue: Etisalat Building, Opposite WAEC Office, Ogba, Lagos.
---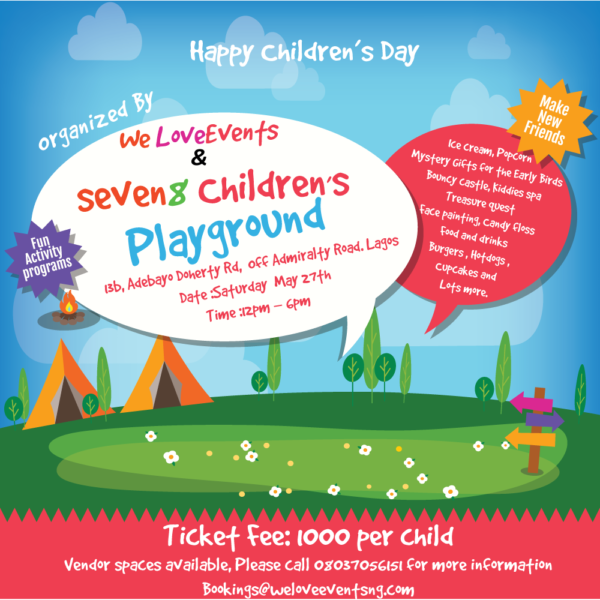 We Love Events Children's Day Party
Activities will include Kiddies Spar, Creative Crafts and lots more for an exciting experience.
Date: Saturday, May 27, 2017
Time: 12PM – 6PM
For more information call  08037056151 or email bookings@weloveeventsng.com
---
Skin Lightening Seminar
Come learn everything you've ever wanted to know about safe skin lightening methods. The seminar will be conducted by Sleek Studio MD, Dr. Ebele Ugochukwu, who is an internationally trained, licensed dermatologist.
Date: Saturday, May 27, 2017
Time: 1 PM
Venue: Sleek Studio Square, VI (Opp. Silverbird Galleria)
Attendance is FREE but you must REGISTER by e-mailing: euphoriquepr@gmail.com
---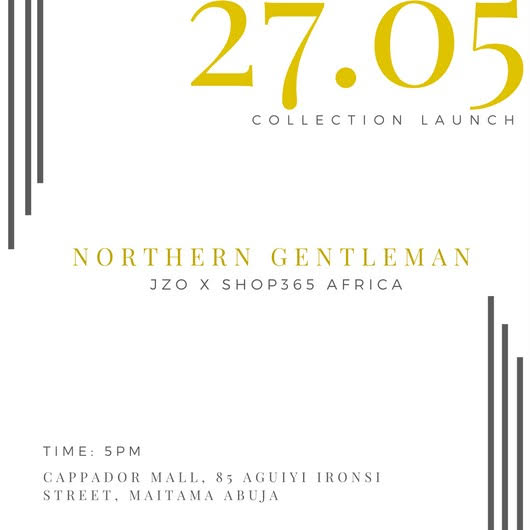 JZO Abuja Pop Up
Date: Saturday, May 27, 2017
Time: 5PM
Venue: Cappador Mall, 85, Aguiyi Ironsi Street, Maitama, Abuja.
---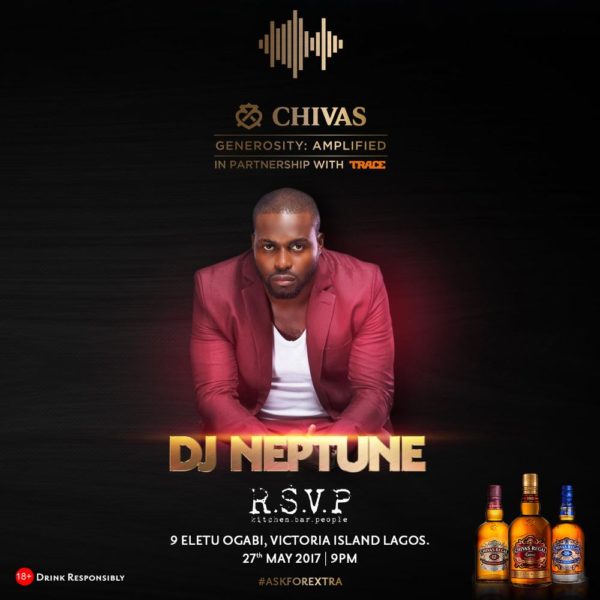 Chivas Generosity Night
Date: Saturday,  May 27, 2017.
Time: 9PM
Venue: RSVP, 9 Eletu Ogabi, Victoria Island, Lagos.
Music: DJ Neptune
---
Carnivale Mayhem
The 17th Edition of the biggest shopping and food festival in Lagos city is back again in May with the MAYHEM on the 28th of May 2017. The platform enables business owners to exhibit their products and services and also reach out to a wider audience. 
Date: Sunday, May 28 2017
Venue: Muri Okunola Park, Victoria Island, Lagos.
---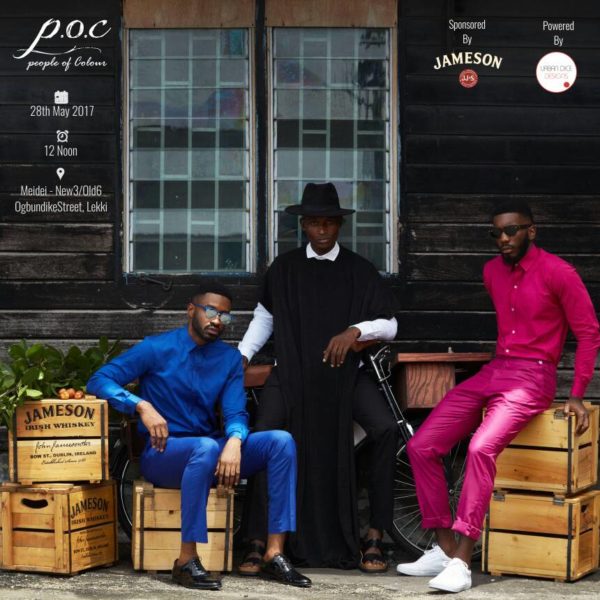 P.O.C Store Space Launch and Shopping Party
Menswear brand, P.O.C will be hosting a shopping party, collection and store space launch. The brand, which was formerly focused on bespoke pieces, now provides ready to wear pieces, which will be officially stocked at Meidei for N15, 000.
Date: Sunday, May 28, 2017
Time: 12PM
Venue: Meidei, New3/Old6 Ogbunike Street, Lekki, Lagos.
---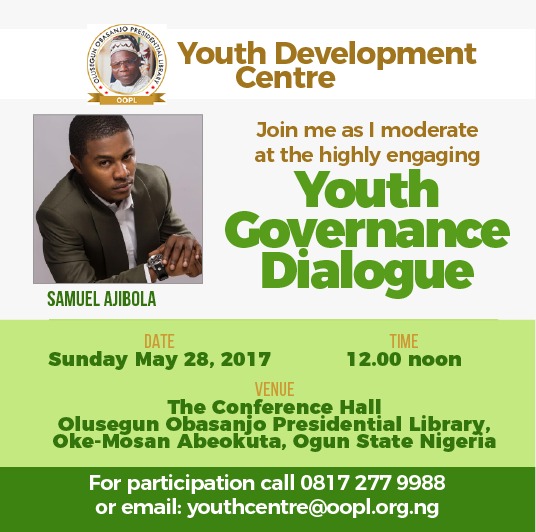 Youth Governance Dialogue
The conference, which is organised by the Youth Development Centre of Olusegun Obasanjo Presidential Library, seeks to revitalize the active participation of young people in governance through peer and youth-adult dialogue.
Date: Sunday, May 28, 2017
Time: 12PM
Venue: The Conference Hall, Olusegun Obasanjo Presidential Library Complex, Oke-Mosan, Abeokuta, Ogun State.
---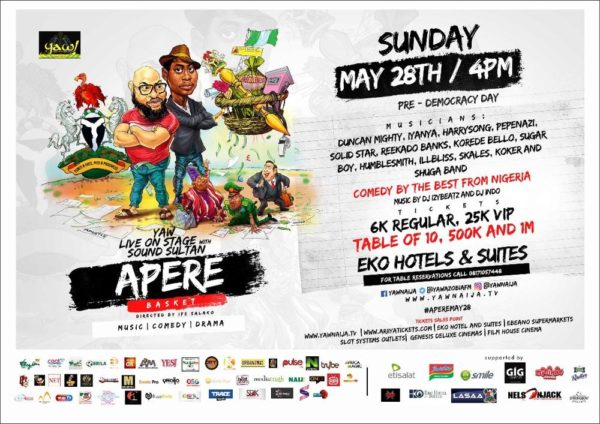 Yaw Live on Stage – Apere
This year, the show's highlight is an amusing stage play titled 'Apere' (basket) featuring Yaw and musician Sound Sultan as they take a completely satirical and holistic view at the issues surrounding Nigeria.
Date: Sunday, May 28, 2017
Time: 4PM
Venue: Eko Hotel Convention Centre, Victoria Island Lagos.
---
Forestation 2017
Forestation will invite excitement into the act of exhibiting and appreciating art, by creating the right atmosphere. Our vision is to cultivate an environment where guests are informed about emerging artworks/art styles, while being entertained and visually stimulated.
Date: Sunday, May 28, 2017
Time: 5PM – 10PM
Venue: Workstation, Lagos.
Entry: N5000
---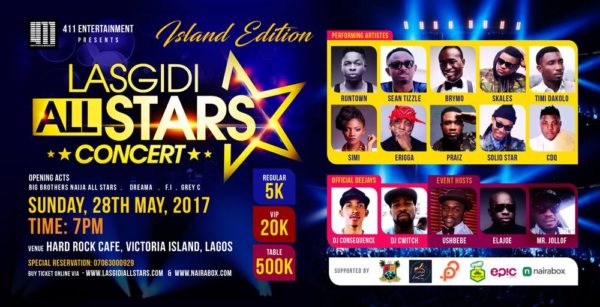 Lasgidi All Stars
Date: Sunday, May 28, 2017
Time: 7PM
Venue: Hard Rock Cafe, VI Lagos.
---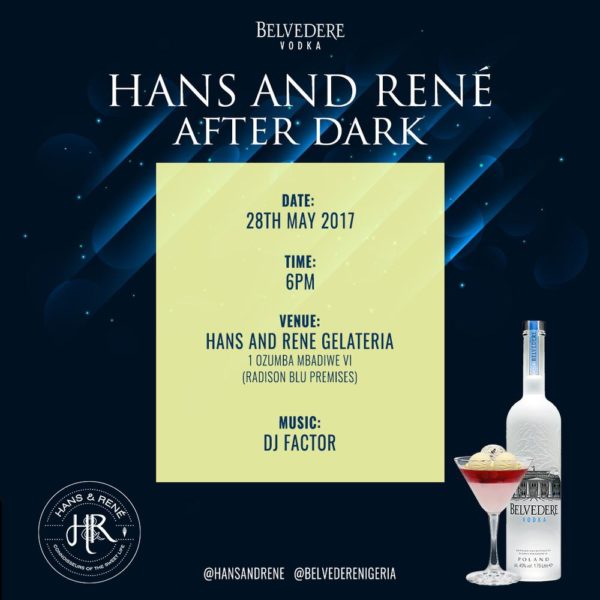 Hans & Renee & Belvedere Vodka "After Dark Party"
Come enjoy the best ice cream x vodka cocktails, great music and good vibes at the After Dark Party!
Date: Sunday, May 28, 2017
Time: 6PM
Venue: Hans & Renee Gelataria, Radisson Blu, 1 Ozumba Mbadiwe Road, Victoria Island, Lagos.
RSVP: esther@bobbytaylorcompany.com
Music policy: DJ Factor
---
Abuja Beauty Party
The beauty party will be a fun event with talks on etiquette, makeup tips, fashion tips and a runway to show case of some pieces from Vantage Clothiers.
Date: Monday, May 29, 2017
Venue: 57, Ebitu Okiwe Owe Street, Jabi, Abuja.
---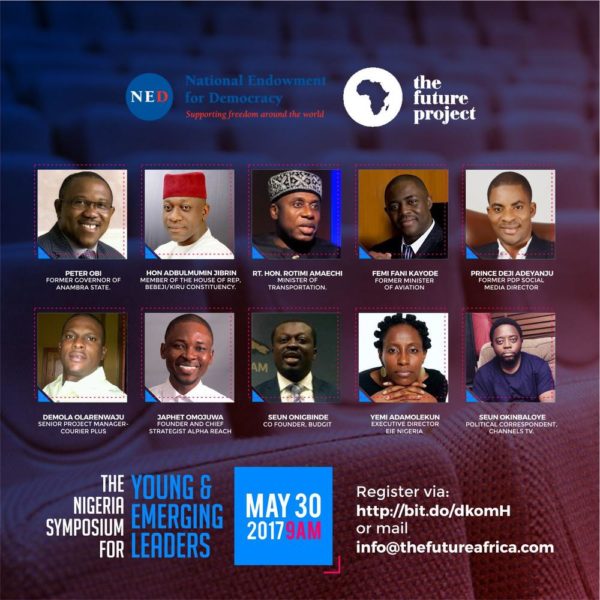 Nigeria Symposium for Young Emerging Leaders
The Future Project partners the National Endowment for Democracy (NED) and Y!/YNaija.com to host the third edition of The Nigeria Symposium for Young and Emerging Leaders on May 30, 2017 in Lagos. 
Date: Tuesday, May 30, 2017
Time: 10AM
To register, send a mail to info@thefutureafrica.com
---
Kinabuti Pop Up the World Tour
Date: Wednesday, May 31, 2017