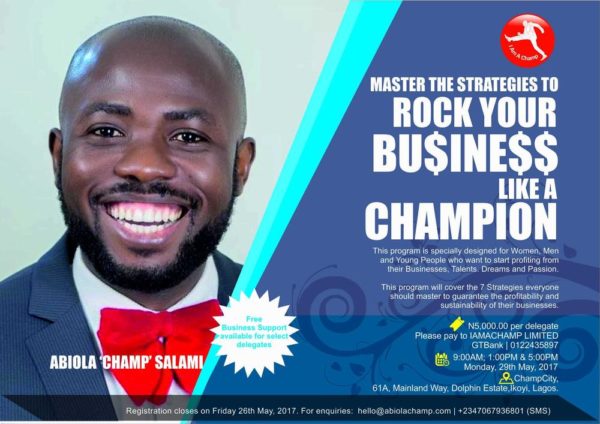 On May 29th, you may want to rest, catch up with friends & family, watch a movie, hangout with your lover and do all the things we love doing on public holidays.
But you can catch fun and still add some value to yourself at this awesome event – Master the Strategies to Rock your Business like a Champion with Abiola 'Champ' Salami.
If you have a burning desire to start your own thing but you don't know how to go about it yet.
Or you have this burning desire to start making money from your Business, Passion, Talent & Dream and you really want someone to guide you.
Or you and someone you know currently runs a business but you need some guidance in some areas to improve your business operations and sustain profitability, make it a date with Abiola 'Champ' Salami.
Date: Monday, May 29th, 2017.
Time: 9.00 am, 1.00 pm or 5.00 pm (You can choose the most convenient time slot for you)
Venue: 61A, Mainland Way, Dolphin Estate, Ikoyi Lagos.
You will only be required to invest N5,000 to attend this session. (Snack & Drink inclusive). And if you want to attend with three of your special friends, we will give you a special discount of 25%. This means all four of you will only invest a total of N15,000.00.
You will receive sound Business advice across 7 Strategic Business Areas – Managing Markets, Building & Managing Your Team, Cultivating The Personality for Your Business, Managing Business Finance, Achieving More With Less Time and lots more.
You will also have the opportunity to access free business support services at CHAMP City after the training.
It will be a great opportunity to learn, have fun & network as you position to Rocking Your Business, Passion, Talent & Dream Like A Champion.
Registration Details
Investment Amount: N5,000.00  (Five Thousand Naira Only) per Delegate or N15,000 (Fifteen Thousand Naira Only) for Four Friends.
Account Name: IAMACHAMP LIMITED
Account Number: 0122435897
Bank: GTBank
Registration closes on Friday 26th May, 2017.
Follow @abiola_champ on Instagram for more details
—————————————————————————————————————-
Sponsored Content