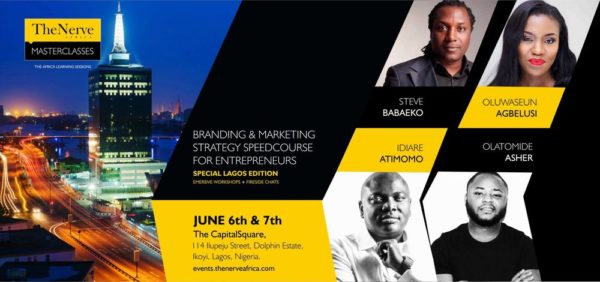 TheNerve Africa will this June kick off its Masterclass and training sessions for entrepreneurs across West Africa, starting with Lagos and Accra in June and July respectively. The pilot edition, which will be open to only 30 participants in Lagos, Nigeria and mainly owners of small and medium-sized businesses and will focus on branding and marketing strategy to help them gain leverage in a market saturated with big-budget competitors.
Date: Tuesday, June 6th & Wednesday, June 7th, 2017.
Venue: 114, Ilupeju Street, Dolphin Estate, Ikoyi, Lagos.
The speed-course will cover introductory and intermediate lessons in brand management, brand strategy, brand archetypes, positioning, identity management, creative strategy and marketing in a competitive marketplace like Nigeria.
The Nigeria edition brings together some of the best brains in branding and marketing as facilitators and trainers in a two-day session that will encompass practical workshops, strategy mapping sessions and fireside chats. Cumulatively, the facilitators have worked on almost all of Nigeria's most loved brands. From MTN to Etisalat, Guinness, Star beer, Samsung, Tekno Mobile, PepsiCo, Diamond Bank, FCMB, Paga, Multichoice, Oando and more.
Some of the confirmed facilitators include veterans and marketing mavericks like Steve Babaeko, CEO, X3M Ideas, Idiare Atimomo, CEO of UpInTheSky, Asher Olatomide, Former Strategist at Insight Communications and currently Director of Strategy, Africa for WildFusion Ltd, Seun Agbelusi, an industry veteran and celebrated brand strategist.
Interested participants should register here: http://bit.ly/TNAMasterclass or call 07039574514 for enquiries.
—————————————————————————————————————-
Sponsored Content