Nigeria is the 146th Country to endorse Paris Climate Change – United Nations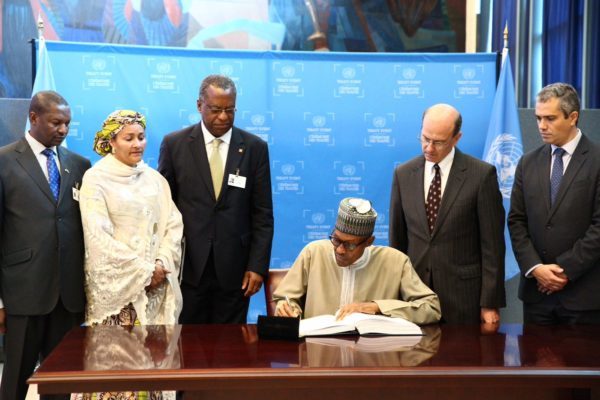 The UN says Nigeria is the 146th country to endorse the Paris Climate Change agreement as the country presented its endorsement on Tuesday.
Santiago Villalpando, Chief of the Treaty Section of the UN, stated this at the presentation of the Climate Change Endorsement instrument by Nigeria's Ambassador and Permanent Representative to UN, Prof. Tijani Bande.
The Paris climate change agreement entered into force on Nov. 4, 2016, with 197 parties and Nigeria has deposited its instruments of ratification, acceptance, approval or accession with the depositary.
Villalpando, at the historic event in New York, commended Nigeria for taking the bold decision and for its commitment to implementing the Paris Climate Change Agreement.
This presentation of the Climate Change Endorsement is our living up to our commitment. We have ratified this agreement, President Muhammadu Buhari has signed it and we have deposited the instrument.

This is to underline our commitment to the agreement in Paris and this is important for the world. Climate change is really important, there's no doubt about it and we are glad that we have become the 146th member of the UN to ratify it. So this is good for Nigeria," Bande said.
He assured the UN and the international community that Nigeria would fulfill its own part of the agreement but called on other countries to live u to their own commitments.
We operate within the commitment of the agreement and we also expect others to do the same. It is important and that is why it took a long time to agree to but we have passed it now. It is just to begin to act within the agreement. Nigeria has always shown commitment to international obligations, there's no question about that. Even through our difficult period, we're still a very reliable member of the international community," Bande said.
The presentation of Nigeria's Climate Change Endorsement was witnessed by the Deputy Ambassador, Samson Itegboje, Alex Ajayi and Eunice Umezurike.
Buhari had signed the Paris Agreement on Sept. 22, 2016 on the sidelines of the 71st UN General Assembly, saying it "demonstrated Nigeria's commitment to a global effort to reverse the effects of the negative trend".
By signing the agreement, Buhari committed Nigeria to reducing "Green House Gas Emissions unconditionally by 20 per cent and conditionally by 45 percent" in line with Nigeria's Nationally Determined Contributions.
The president had also signed the instrument of ratification of the agreement on March 28, making the country one of those that had ratified the agreement.