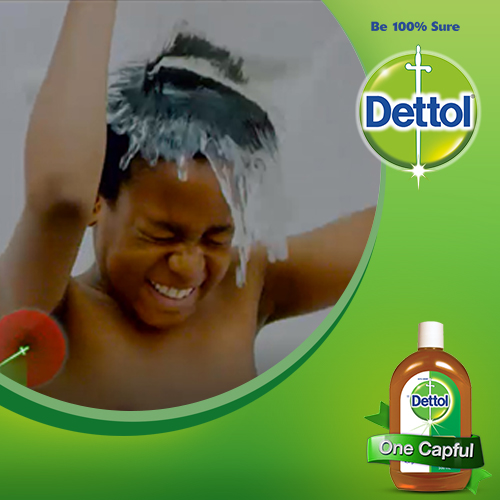 Most nights, the only thing standing between a mum and her favourite TV show on TV is a very defiant child who will not take a bath. Almost every mother goes through the anti-bath phase with their kids. Getting my kids to take a bath used to be the hardest thing for me. First, comes the pleading, followed by negotiations and then the tantrums.  By the time bath time was over, my popular series on Zee world would be as well.
So many times, I was tempted to let them sleep without a bath but their health is a very important thing to me. Children play as wild as their imaginations and this leaves them exposed to germs which can cause illnesses.
I had to find a way to get my kids excited for bath time and keep them germ-free as well which is how I discovered the power of Dettol Antiseptic Liquid. It kills up to 100 illness-causing germs, leaving my kids cleaner and better protected.

I add one capful of Dettol Antiseptic Liquid to my kids bathing water and you should see how excited they get when it turns cloudy white. Now bath time is more enjoyable for them and I never have to worry about them being safe (or missing my favourite show).
I am a Powerful Naija Mum and I rely on the power of Dettol's 1 capful to protect my family from germs. Are you a powerful Naija mum? Dettol wants to celebrate you!
As a reward for all your efforts to keep healthy homes and families, Dettol plans to celebrate powerful Naija mums in April 2017. This means some of you lucky mothers will get to hang out with your favourite celebrities in Nigeria at the end of the search for Powerful Naija Mums!
Each week, mums with the highest likes get to win a Dettol Power Pack filled with exciting prizes including a smartphone and at the end of the campaign, a final draw will be done to select the top mums with the highest engagement. These mums will be part of Dettol's Powerful Naija Mum photo shoot with the celebrities. The shoot will also be featured on top blogs and websites with many exciting gifts to be won!
To participate:
Upload a photo or video telling us how you use Dettol's one capful,
Upload on your social media page
Ensure your post is seen by using the hashtag #Powerfulnaijamum #Dettolonecapful
Tag @thenaijamum on Facebook and @thenaijamum_ on Instagram
WIN EXCITING PRIZES!!!
Be a powerful Naija Mum with Dettol!
*Terms and Conditions Apply
—————————————————————————————————————-
Sponsored Content