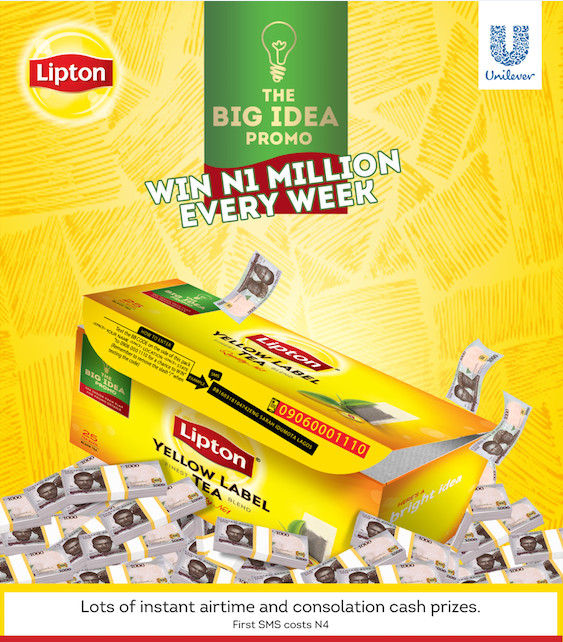 Sometimes, all you need is a bit of support and just like that, you are well on your way to bringing your big dreams & ideas to life.
We all could use a bit of support abi? Some of our budding fashion designers out there have been looking for how to gather funds to purchase that new shiny sewing machine that will transform their business.
And… we all have that one photographer friend that has been ​eyeing a drone since the beginning of this year but, for this recession way we day, money no reach.
But guess what?
Lipton Yellow Label Tea will be taking the pressure off some of you with the 'Big Idea Promo' and giving you an opportunity to re-write your story.
Taking part in this promo is as easy ​as ​meat pie!
Just purchase a promo pack of Lipton tea, text the Best Before code to a number specified on the pack and then follow the responses to stand a chance to become an instant millionaire millionaires will be chosen weekly.
To ensure you get Lipton's text messages, make sure that the DND service is turned off on your mobile phone by going to https://web.facebook.com/LiptonNigeria/app/1158436200945796/
The promo commenced in the month of May and will continue while stocks last.
Millions of customers will also be rewarded weekly with other cash prizes and lots and lots of instant airtime. It doesn't matter where you reside in the country, as millionaires will be selected all over Nigeria.
So what are you waiting for?
Go get yourself a Lipton
​Promo Pack and you just might get that bank alert that will unlock your big idea​.
———————————————————————————————————————–
Sponsored Content