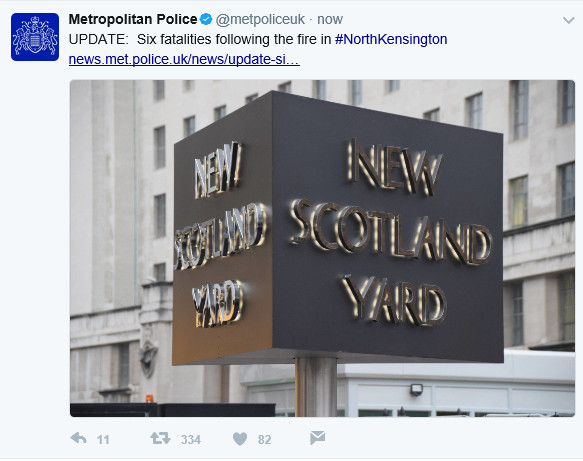 Following the fire at the Grenfell Tower on Wednesday morning, the UK Metropolitan Police has said that 6 people have been confirmed dead.
Commander Stuart Cundy said that sadly, the number of fatalities is expected to rise.
"I can confirm six fatalities at this time but this figure is likely to rise during what will be a complex recovery operation over a number of days. Many others are receiving medical care," he said.
"If you do have any concerns for anybody connected to this awful event, please call the Casualty Bureau on 0800 0961 233. If you do not get through immediately, please try again. If you have any concerns, please use that number rather than dialing 999 or 101.
"If you are a resident who has been evacuated from the area and can't now get home the current reception centre being coordinated by the local authority is at the Portobello Rugby club at Walmer Road. We urge anyone who lived in the block to make themselves known at that centre so that we know they are safe. If you are unable to get to the centre please speak to a police officer. This is really important as we account for all those in the building.
"Equally if you have reported someone missing and they are now safe and well it is really important that you contact Casualty Bureau so that we can keep an accurate record of who is missing and who is safe.
"We kindly ask that the public stay away from the area. I thank the public for their patience and their cooperation today which has already greatly assisted our policing response."