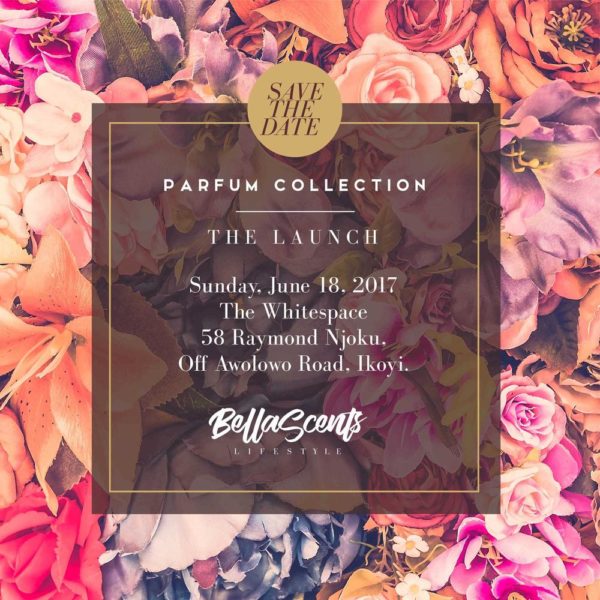 Bella Scents Lifestyle is an interior fragrance brand created with you in mind!
Featuring a wide variety of exquisite fragrances, Bella Scents Lifestyle adds a final touch of elegance to any room with its luxury scented candles, reed diffusers, burning oils and room sprays.
 The fragrance brand allows you to create a style statement either in your home, hotel or workspace with alluring scents that capture the senses every time you walk through the door.
 Available in 12 sophisticated fragrances, the new 'Parfum Collection' evokes an aroma of long-lasting memories from perfectly blended rich floral, fruity and spicy notes. These scent notes include Vanilla, Sambac Jasmine, Mandarin, Oranges, Mangoes, Violet, Patchouli, Lemongrass, Coriander and more.
Date: Sunday, June 18th, 2017
Time: 1.00 pm
Venue: The White Space, 58, Raymond Njoku, Off Awolowo Road, Ikoyi.
The Parfum collection includes Sensual, For Him, Hypnotic, Innocence, Indulgence, Mango Madness, Pop Champagne, Luscious Vanilla, Seductive Violet, Le Grass & Ginger, Bubble Gum and Marshmallow.
 All items in this collection are housed in elegant and attractively designed vessels suitable for keepsakes and table displays once the scent is finished.
RSVP: [email protected]
 For Information please visit: www.bellascentslifestyle.com
—————————————————————————————————————
Sponsored Content