A Cholera outbreak has been reported in Kenya at an ongoing forum organized by the Ministry of Health in Nairobi.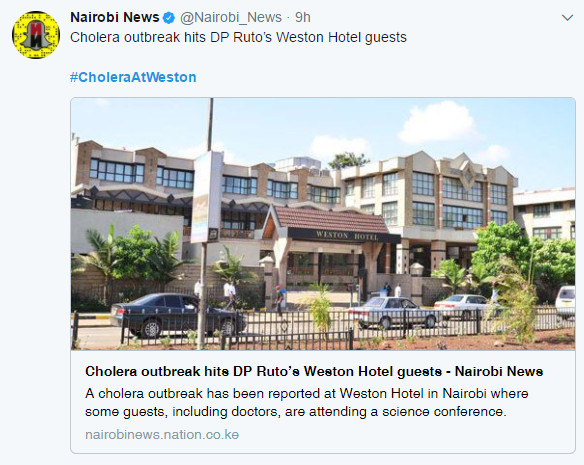 The Kenya International Scientific Lung Health Conference, holding at the Weston Hotel in Nairobi with over 500 guests in attendance, has reportedly being affected by Cholera Outbreak.
The Chairman of the Conference, a Dr. George Nyale confirmed the outbreak and assured that the situation is under control.
"We have contingency measures on the ground," he said.
One of the victims reported that the outbreak started out as food poisoning. Victims have reportedly been hospitalized at Nairobi and Karen hospitals in Kenya.
Cholera outbreak hits DP Ruto's Weston Hotel guests#CholeraAtWeston https://t.co/mwOGsAIZeL
— Nairobi News (@Nairobi_News) June 22, 2017