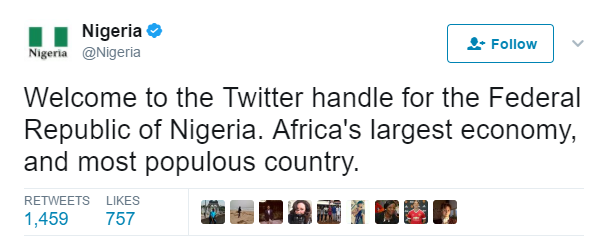 Nigeria now has a twitter account!
The account's bio states, "Discover Africa's most populous country, and largest economy," began tweeting last Friday. Although, it joined the social networking platform in June, 2016.
The account says it intends to "showcase Nigeria's culture and context; voices, views and visions; and sights, sounds and spaces."
The Twitter accounts of Sweden and Israel have congratulated the Nigerian account on joining.
Welcome @nigeria !! https://t.co/WwJ6ZUVNZ4

— @sweden / Will (@sweden) June 10, 2017
Welcome to the club, dear @Nigeria – Happy tweeting! ?? ?? https://t.co/mmTWcXCuJl

— Israel ישראל (@Israel) June 10, 2017
Hey @Nigeria! Welcome to the brave new world of twiplomacy! Looking forward to reading interesting insights about your country ? https://t.co/1PGUPhfjlm

— Ukraine / Україна (@Ukraine) June 11, 2017
The account stated that different Nigerians will be managing it at different times.
We will do that. We will open up the handling to different Nigerians on a serial basis. Just like @sweden and @ireland do. https://t.co/SXG2xO10PS

— Nigeria (@Nigeria) June 10, 2017