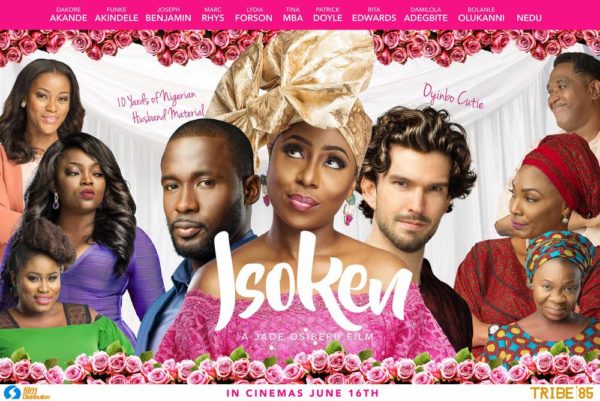 Hilary "The Maveriq" Ajodo of tharevue.com (pronounced "the review dot com") one of Nigeria's review resource for local and foreign movies reviews Nollywood movie "Isoken"
Directed By: Jadesola Osiberu
Producer: Jadesola Osiberu
Main Cast: Dakore Akande, Joseph Benjamin, Marc Rhys, Funke Akindele, Damilola Adegbite, Lydia Forson, Tina Mba and Patrick Doyle
Release Date: June 16, 2017
Genre: Drama/Romance
Isoken revolves around the titular character (Dakore Akande), an ambitious and very successful career woman. The only snag is that she is 34 and her overbearing mother is on her case to settle down. Isoken is therefore torn between a proper Naija husband material (Joseph Benjamin) and a goofy Oyibo boy (Marc Rhys).
There has been a lot of hype about Isoken especially since the international premiere of the movie and now I see why. The movie was indeed a mighty fine movie. What particularly endeared me was the simple and basic plot which was easy to follow and not overly complicated.
The storytelling was decent and appealing and brought to life by some really good acting especially by Dakore and Mark Rhys. Dakore's character was so relatable that after a while, you start seeing her as Isoken rather than Dakore. Mark's cockiness and goofy nature were charming and really cute and that swayed the audience to his side. I was also impressed with Funke Akindele and Nedu who attempted to be a "posh", but expectedly, it didn't take long before their respective inner Jenifa and Nedu revealed themselves.
Other than the acting I must specifically note that the technical aspects of the movie making were top notch. The colouring was marvellous and the camera work was superb. I especially liked the way they transited between scenes. Another commendable aspect was the soundtrack – they used really appropriate Naija songs which aided with the overall feel of the scenes.
The only thing I found a soupçon underwhelming was the conflict resolution which seemed a little too easy because I expected some serious resistance and confrontation but I guess the movie had to be resolved somehow. I don't want to give much away but there seemed to be a loose end with one of Isoken's suitors and I am curious to see what came of him.
Before I go, let me drop some advice to the fellas out there. I understand when you are worried that one rich fine boy is circling around your babe because those ones can collect man's babe one hand, but you see that stupid boy that makes her laugh? The one she calls "big head"? That's the guy you should assassinate.
Anyways, I am really proud of this movie because of its simplicity and beauty fitting for local and international audiences and I do recommend it to everyone especially the Nollywood doubters.
Follow tharevue.com on social media:
Twitter: @ThaRevue
Facebook: ThaRevue
Instagram: tharevue
Email: [email protected]