Nike Art Gallery, Lagos, is home to amazing art. If you've been there recently, you probably noticed the large cardboard cake on the second (or third) floor. This cake, painted green and white, gives a nod to Nigeria's national colors. Huge black ants—made of nylon—are scattered on the floor. Some are on the cake carting off huge chunks. For anyone who is Nigerian, the message here is not lost. The cake is representative of the nation's fortunes popularly known as the National Cake. The ants are the masses (or maybe our thieving politicians) taking their piece.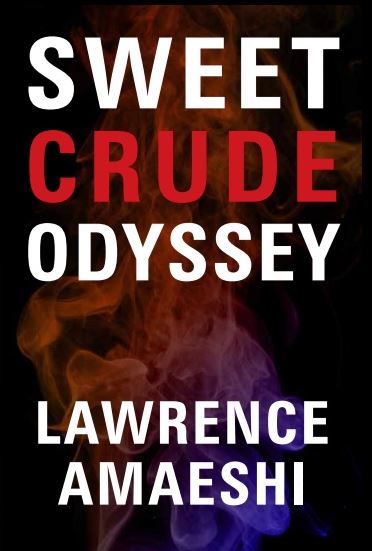 Lawrence Amaeshi's book Sweet Crude Odyssey is a perfect illustration of the measures being taken to acquire some of this National Cake. Amaeshi's book is about Bruce Telema, a man low on fortune who receives a business proposal from a seemingly benevolent man (Steve). Although suspicious, Bruce accepts to hear Steve out and is flown to London.
There, he is asked to act as an intermediary between oil-stealing militants and interested foreign parties. Since there is the danger of these foreigners getting kidnapped, it is necessary that they have a go-between who'd take care of negotiation, collection, and transportation of stolen product to tankers at sea.
Bruce's fortunes take a turn when he starts this "business", and he is soon thrown into the world of General One-Handed Jojo and Excellent Commander, top militants in the Niger Delta. The going is good until a mega deal worth half-a-billion British pounds is initiated by a Ukrainian named Sergei. However, between getting the crude and delivering it to a cargo ship, things go awfully wrong. Local and international police get involved, there's a conspiracy amongst the militants, and Bruce's life starts to burst at the seams.
Sweet Crude Odyssey shows the lifestyle of the rich and newly moneyed but also dives into the squalor prevalent in several areas of the Niger Delta. With oil spills and the government/oil companies constantly making unfulfilled promises to clean these disasters, it's no wonder environmental degradation is king is those parts.
The helplessness and me-too-must-chop-national-cake mentality prevalent amongst youths in these areas mostly stem from them thinking the government doesn't give a hoot about their well-being. I served in the oil-rich Rivers state during my National Youth Service, and after seeing how bitter the locals were, my empathy grew to epic levels.
Sweet Crude Odyssey is written in journal format: dates and locations are used as markers for new sections. I laud how the author used this to weave his narrative, however, the constant injection of flashbacks (using this format) was exasperating. I found myself mentally calculating timelines instead of enjoying the story. Some of these flashbacks also seemed unnecessary. They stuck out like extra limbs.
There was also the issue of dialogue. Some of the militants spoke impeccable English and a few exchanges sometimes read like Shakespearean acts. Now, I'm not saying militants can't speak excellent English, but it just seemed a tad unbelievable especially in certain (life/death) scenarios.
Complaints aside, I should give the author credit for doing a lot of research while writing this book. From precise information about distillation processes to expertly depicting mannerisms prevalent amongst people of different nationalities and social strata, Amaeshi went the whole nine yards.  I learned a lot while reading Sweet Crude Odyssey. The best thing about this book is that is it explores the highly ignored Niger Delta crude crisis without sermonizing right or wrong. It is an excellent story because it shows instead of telling.
I commend the effort put into writing this book and would recommend copies for everyone, especially our politicians and executives of oil exploration companies. Maybe, just maybe, it'd help them see how their actions are affecting millions of lives.
Amaeshi's Sweet Crude Odyssey can be purchased here on the OkadaBooks store. Get it while it's hot!

Chiamaka Onu-Okpara is a freelance book editor who has experience editing fiction, creative non-fiction, and academic pieces (Social Sciences and Humanities). She also writes fiction and poetry and has been published in Ake Review, Apex Magazine, and Kalahari review amongst other places. Her first poem is forthcoming in Strange Horizons.
Contact her for editing jobs at [email protected]

For reviews, send a mail to [email protected]