…and the winners of our giveaway are:
Ziz
I would really like to read this book. i was a size 8 for many years. but i got pregnant. i suddenly balloned in weight. i however lost the pregnancy but i have not lost the weight. i would really like to know how to get my weight back and maintain it especially for other pregnancies. thank you

Patrick Ojechi
I want to win this book because i have been fighting against fat in my body but am not yielding any results. it will be of great joy to win the book and learn what is written on it and practice it, thank you.
You will be contacted by a BellaNaija representative on how you can pick up the book.
***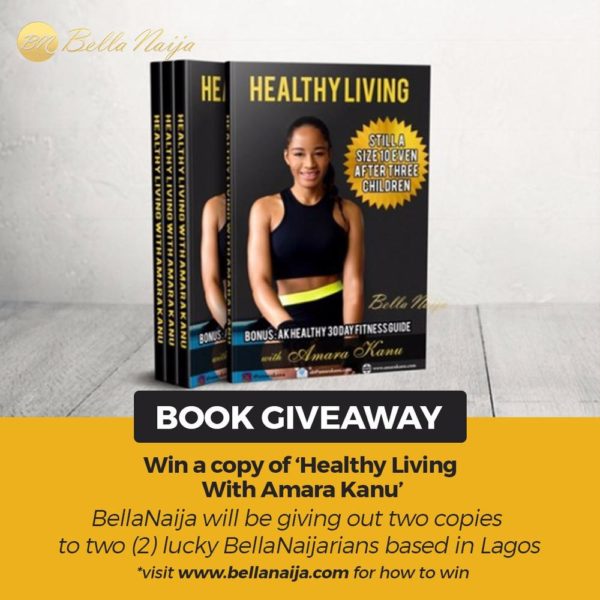 Hey BellaNaijarians,
Hope you had a super fab weekend! 
To kick off the new week, we are giving away TWO copies of Amara Kanu's new fitness book "Healthy Living with Amara Kanu… Still a Size 10 after 3 Children" to two BellaNaijarians based in Lagos.
The book will be officially launched in London this week (on the 14th of July), and we have another contest for our BNers in London for that.
If you are a fitness buff or an Amara Kanu fan, then this is for you.
How to Win:
Comment on this post on why you want to win the book. Please ensure you use your valid email address to make your comment.
The winner will be selected at random and will be announced on TUESDAY, 11th of July, 2017 by 12NOON.
Terms & Conditions
Interested participants MUST live in Lagos
Interested participants MUST be willing to pick up the book at a selected venue
Interested participants MUST be willing to share their experience on @bellanaijaonline and www.bellanaija.com
Other T&Cs apply!