Mixed reactions have trailed the release of the 6 students of Lagos State Model College, Igbonla, after spending 65 days with their captors.
While everyone is rejoicing on the release of the students, some others have also decried that the Government is taking credit for the release.
It had been reported that the parents paid an additional N5m to secure the release of the boys, bringing the total sum of ransom paid to N37m.
When the Lagos state Commissioner of Police Fatai Owoseni, was asked by PUNCH if any ransom was paid, he reportedly refused to comment, saying that dwelling on it would glamorise kidnapping.
Owoseni, according to PUNCH, had however said that 20 members of the kidnap syndicate were killed during rescue operations, adding that one of them, who collected ransom on their behalf, was also arrested.
Speaking at a press conference on their release, Lagos state Deputy Governor Idiat Adebule said that their freedom is the outcome of a "rescue operation".
"We commend the efforts of the Nigerian Police, particularly, the Lagos Command and other security agencies for their efforts in ensuring the safe return of these children.

We commend the Ondo State Governor and his deputy for their support and collaboration toward the rescue operation.

We appreciate the Acting President, Prof. Yemi Osinbajo, for his invaluable intervention in ensuring that we have these children brought back to us," Adebule had said.
While speaking at the same press conference, Governor Rotimi Akeredolu of Ondo State, said "In collaboration with the Delta Government, the Navy, Army and Marine Police, we did all that was humanly possible to secure the release of the students."
According to reports, the kidnappers contacted the Ondo state government, saying that they can only release the children to the state.
From Akeredolu, an ex Nigerian Bar Association (NBA) president's statement, one cannot tell if the children were rescued or ransomed.
A tweet by Osinbajo's Senior Special Assistant (Media and Publicity) Laolu Akande, said that Lagos State Governor Akinwumni Ambode "worked very hard with FG agencies, Ondo, Delta governments & Nigerian Navy for the result".
Congrats to Lagos State Gov on release of kidnapped boys. He worked very hard with FG agencies, Ondo, Delta govts & Ngr Navy for the result

— Laolu Akande (@akandeoj) July 28, 2017
The Lagos state government has said that it "will now go back to the drawing board on how to improve security in schools before resumption in September," adding that "the release is a demonstration of the fact that there is security in Lagos, Ondo and in Nigeria as a whole".
However, Nigerians have complained that the government should not take credit for the release of the boys, since the kidnappers were paid a ransom.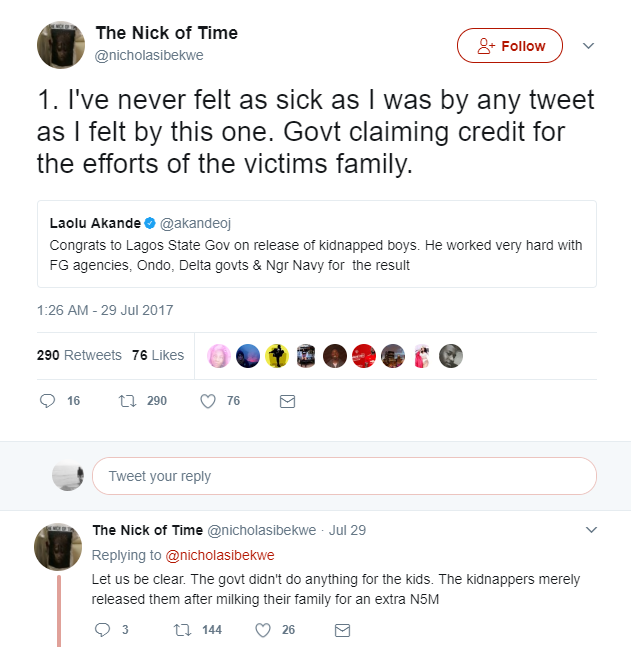 Thankfully, the boys are back, and we hope that with the necessary care and therapy, they adjust to life after such a traumatising experience.