Wedding Enchanters Maria Pamela, Kayode Oshodi, Isaiah Ogun cover Vanguard Allure Magazine's Latest Issue
On this wedding issue of Vanguard Allure, deputy editor Jemi Ekunkunbor sat down with some of the creatives behind weddings.
Maria Pamela, Decorator and boss of Nwandos Signatures Events who is well known for transforming a simple venue into a place of enchanting ambience, Kayode Oshodi of Innovate Media brings the magic of lighting effects with the use of smoke and fog and Isaiah Ogun of Euclase Photography who caps it up by capturing the amazing moment that will forever be cherished by the couple.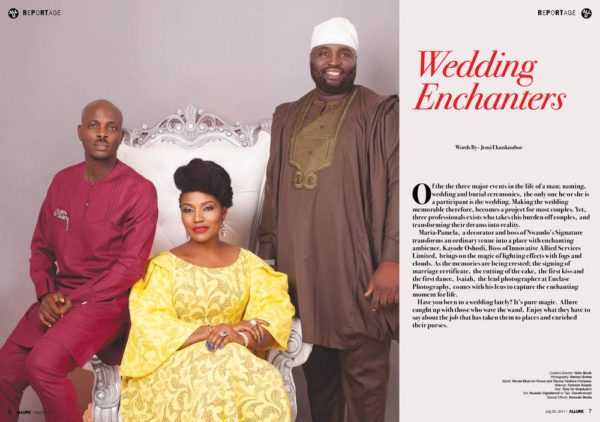 Be sure to grab a copy of the magazine to read their interview.
Credit:
Creative Director: Nelly Mesik
Photography: Bamiyo Emina
Stylist: Rhoda Ebun for Roses and Thorns Fashion
Makeup: Debrene Beauty
Hair: Tony for BeautyAce
Location & Set: Nwandos Signatures
Special Effect: Innovate Media