It has been a trying period for pop star Taylor Swift this week. A former KYGO Radio host David Mueller in Denver sued her for $3m, saying Taylor Swift cost him his job with her allegation that he groped her at a meet and greet in 2013, CNN reports.
Taylor Swift's team told his company KYGO about the incident, and the station fired Mueller two days later after its own investigation.
In 2015, Mueller sued Taylor Swift, her mother, and her radio promotions director Frank Bell, saying he was falsely accused and Taylor Swift's team pressured KYGO to terminate his employment.
In response, Swift filed a countersuit in which she accused Mueller of reaching under her dress and grabbing her buttocks as they posed for a photo.
Mueller testified that he did not grope Swift and said his career in radio had been ruined by what he said was a false accusation. However, Swift's attorney Doug Baldridge argued that the incident did happen and that Mueller was suing for fame and money.
The photo eventually leaked to TMZ and it shows Mueller and his girlfriend standing on either side of Swift, with the DJ's hand placed behind the singer, just below her waist. It is not clear whether he groped her.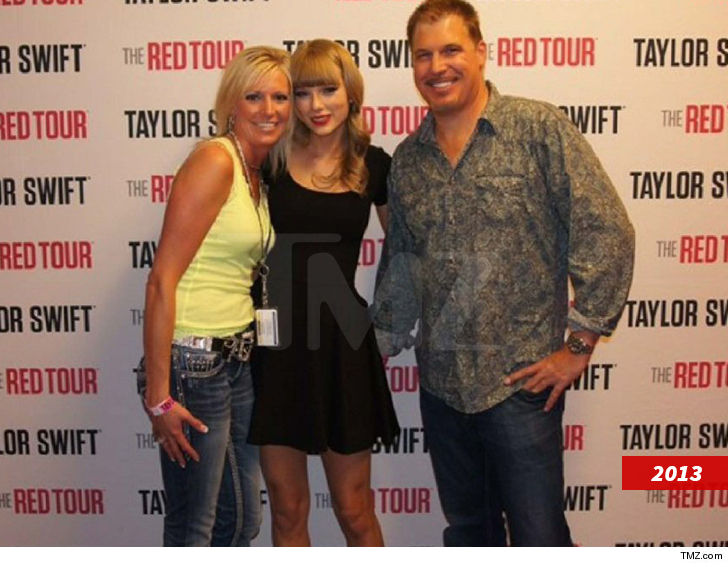 Stephanie Simbeck the photographer who took pictures at the meet and greet was called to take the stand and told the court she thought Swift had made a funny move during the photo, at first believing she had tripped but is now sure Mueller grabbed Swift's rear end but couldn't tell whether his hand went under her skirt.
On Thursday this week, Taylor Swift took the stand in the civil trial and held her ground saying she reported him with no intentions of him getting fired, but merely because she felt violated. She testified:
What Mr. Mueller did was very intentional. I am critical of your client for sticking his hand under my skirt and grabbing my a–.
It was a definite grab. A very long grab. It was a very shocking thing that has never happened to me before. I have experienced every degree of awkward first encounters. This was not jostling. He grabbed my bare a–.
However, his claim was dismissed on Friday afternoon in a Denver court. U.S. District Judge William Martinez threw out the radio DJ's lawsuit against Taylor Swift, giving the singer a win in a preliminary round in the case.
The Judge ruled that Mueller's team had not successfully shown that Swift got Mueller fired after she complained to his bosses about his alleged behavior at the meet and greet. Swift's team has maintained that while Swift told Mueller's boss about the incident, she did not suggest he be let go.
Swift has now asked for $1 million for symbolic damages which she has promised will go to charity. She stated in her lawsuit that she hopes the case serves as an example to other women who may resist publicly reliving similar outrageous and humiliating acts.
An eight member jury will hear closing arguments in the case and in Taylor Swift's countersuit against Mueller beginning Monday morning.