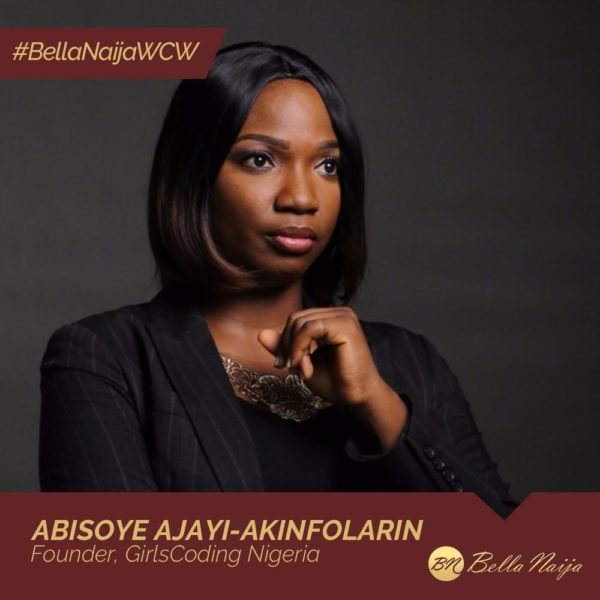 Although the narrative is changing, the tech ecosystem is seen as a space for men; this is evident in the fact that it is a male-dominated industry.
It's no longer news that more than 60% of Nigerian live below poverty line, with women and children being the worst hit.
For girls from underprivileged homes, they have both poverty and the idea that tech is a field meant for men only.
Our #BellaNaijaWCW this week Abisoye Ajayi-Akinfolarin is fighting these two problems one girl at a time.
Abisoye is a social impact entrepreneur and founder of Pearls Africa Foundation, which facilitates opportunities for vulnerable young girls in Nigeria to learn an economically viable skill that will make them less financially
vulnerable.
Through GirlsCoding Nigeria – an initiative that equips, mentors and trains girls from underserved communities in functional I.T skills for the purpose of economic independence – Abisoye is coaching girls from slums, correctional centers, transit homes and IDP camps.
Launched in 2015, Abisoye and three of her friends who volunteered to be instructors, GirlsCoding Nigeria has gotten over 100 girls (aged 10 -17)  to sign up to learn skills such as programming, user interface design and animation.
From learning the very basics to knowledge of computer programming concepts, Abisoye works to ensure that girls
can build their own basic websites, apps, thereby bringing about critical thinking skills.
After the training, the girls are merged with leading technology startups and other organisations for internship.
In July 2017, Abisoye also launched Lady labs Innovation Hub, which caters specifically to the tech needs of girls
from underserved communities, centre for girls, a safe space, an avenue where these girls can meet their mentors and be mentored by professional ladies in the field of technology, business, heath and hygiene.
She is a Microsoft Certified Solutions Developer (MCSD), and Oracle Database Administrator (OCDBA), who got her
I.T Audit training experience from EDP Audit and Security Associates Nigeria.
Abisoye sits at the table with leadership from the Bureau of African Affairs on discussion about entrepreneurship in
Africa and how a bridge can be built between members of the African diaspora in the U.S. and entrepreneurs in
Africa to better promote business growth and opportunities.
She is an alumna of the US Government's International Visitor Leadership Program (IVLP) – Education and Activism for Young Women, a member of the United Nations Interagency Network on Youth Development (Youth4GenderEquality), a member of the YALI Network, Washington DC, and a youth member of the Nigeria Economic Summit Group (NESG), Science and Technology Policy commission.
She has been recognized by Y! Naija for her contributions to the Nigerian technology space (YTech100), and is also listed by the youth-focused media firm, as one of the most powerful names in advocacy in Nigeria (YNaijaPowerList2017). She is also an Ashoka Youth Champion.
Abisoye is giving young girls a chance at achieving their dreams and we're rooting for her!