This BN Bridal photo shoot embodies a love story between Akanke and Jim; a Nubian queen meets an English gent. Dreamy meets romance with blue skies, lavender fields, green eyes and caramel skin in this fantasy beautifully captured by the talented AkintayoTimi.
Here's a little backstory;
One fine Summer's day, boy meets girl but really only when she lets him think that he saw her first and he is making all the moves. Typical English boy with sweet lyrics, this Nigerian princess expects and demands to be wooed, blown away and taken to dreamy heights.

"All in good time", our boy Jim says. He wonders "how about I show her just how far and wide my feelings are? Far as these lavender fields are. I'll show her just how much I would take her breath away. Give her a chance to see what happily ever after would be like if she would take a chance on me."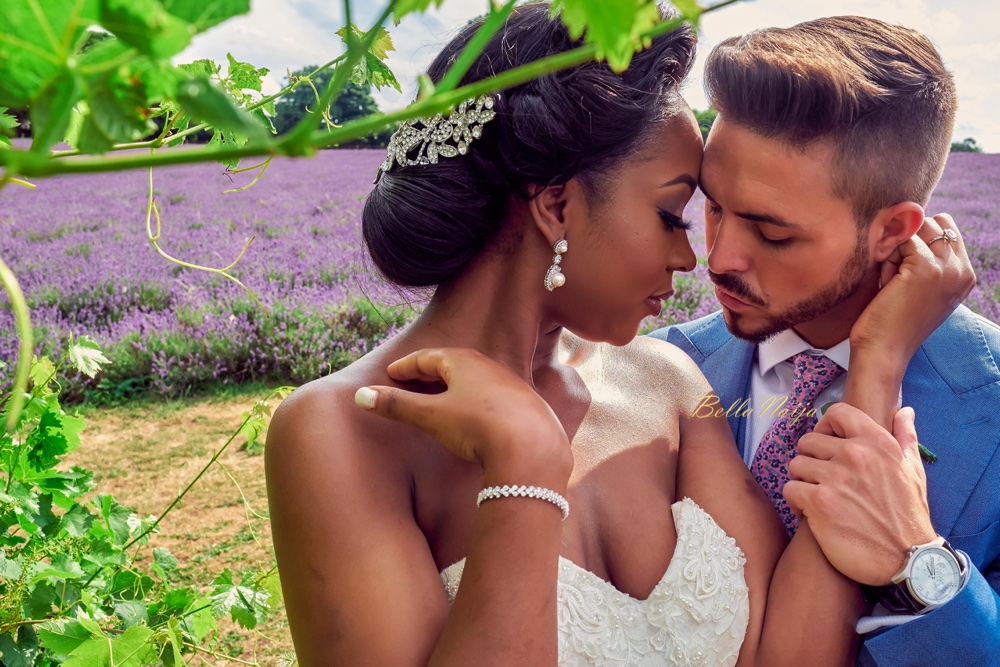 Does Akanke say yes? A true gentleman never says, yet we wager that pictures are truer than a thousand words.

"Akanke is the embodiment of elegance, grace and refinement. Like my queen our love is royal so I'll play the jester in the court of lavender fields. This place so close to my place of birth is everything I need her to understand that she is to me and all I see our love is."

Our photo shoot is devoted to dreamy loving in the English Summertime setting and dedicated to all those Jims and Akankes out there nurturing the most delicate and precious flower of all… Love.
Watch the Video
Credits
Groom: Jim played by David Dooner
Bride: Akanke played by Bukky Olayemi
Male Wardrobe: Anthonys Collections
Day Dress & Bridal Accessories: Elsie Joy Bridal
Evening Dress: Josh and Nichol
Makeup: Ots Beauty
Hairstylist: Styles by Toks
Video: Marvin Films
Photography: Akintayotimi
Decor: Afmena Events
Cake: Tees Bakery UK
Bouquets & Buttonholes: Beverly Wilson London
Visionaries & Shoot Planner: Roe Weddings