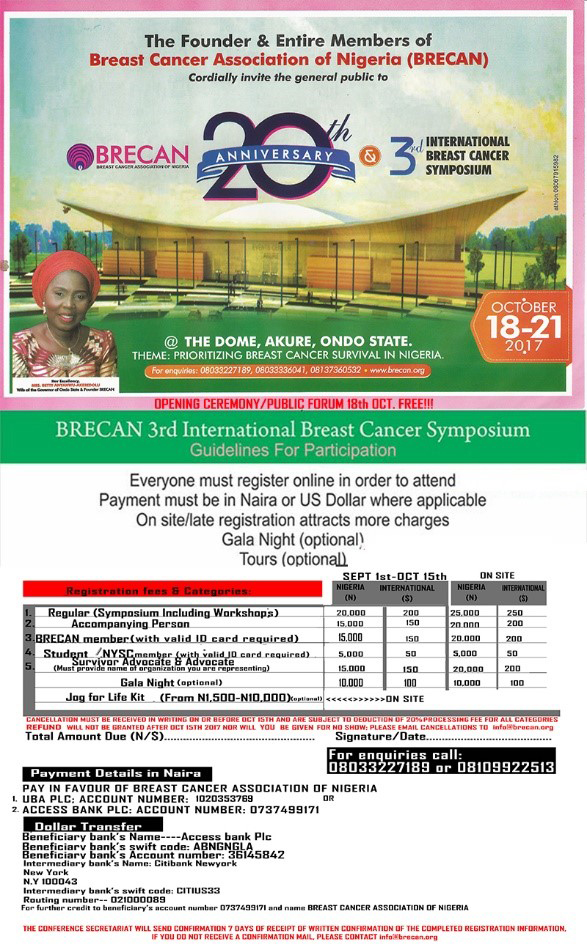 The Breast Cancer Association of Nigeria (BRECAN) is delighted to announce her 20th anniversary and 3rd international breast cancer symposium themed "Prioritizing breast cancer survival in Nigeria"
The 20th anniversary will be celebrated in conjunction with the 3rd international symposium on breast cancer.
Date: Wednesday, October 18th, 2017.
Venue: Dome event centre, Akure, Ondo state
The Aims and Objectives of the symposium include:
 To provide a platform for international and local breast cancer experts and stakeholders to present and discuss most recent trends, practice, concerns as well as challenges encountered and solutions in all aspects of breast cancer care and also to;
To celebrate breast cancer awareness month
To introduce the Ondo state comprehensive cancer centre initiative
To showcase Tourist attraction locations in Ondo state.
Target Audience:
 Health professionals: Physicians, Nurses, Pharmacists, etc.
Academics, scientists, researchers
Government Officials in Health care/administration
General Public
Breast cancer survivors, breast cancer advocates
Youth
Other NGOs: cancer related, women/females
Companies: pharmaceutical, medical equipment
Note:
Opening ceremony/public forum on Wednesday, October 18th, 2017 is free.
There will also be free health screenings and counseling sessions for interested participants.
The symposium is open to individuals across the world.
Online registration closes @ 23:59 (GMT), Sunday, October 15th, 2017, however, there is provision for ''on site'' registration which attracts extra charges at the venue of the conference.
Watch out for updates on:
Hotel reservations
Programme/workshop schedule
Speakers
Tours
CME
For more information about the 20th anniversary and 3rd international breast cancer symposium and to learn more about the Breast Cancer Association of Nigeria please visit www.brecan.org.      
#BRECANat20 #BRECANSYMPOSIUM2017
————————————————————————————————————————–Sponsored Content