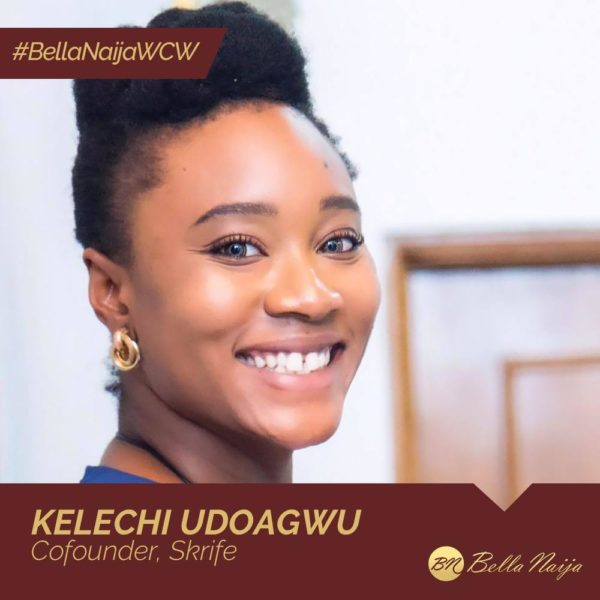 Technology has come to stay and understandably so: it is making work and life easier and faster. While it is making work less stressful, it is almost difficult for the individual with little or no training to understand and most tech news/discussion platforms can sometimes be alienating to the non-techy individual.
How do you get people, especially millennials, involved in tech? Our #BellaNaijaWCW has a way. Kelechi Udoagwu, a writer, tech evangelist and entrepreneur started Tech Roundup with Bitnode, an entertaining tech show for millennials.
Kelechi had in 2016, co-hosted Techies, a web series with the same mission in mind. Kelechi and her co-host Ammishaddai Ofori, cofounder of Flippy got together every week to discuss trending technology news and break down the complexities of software, hardware and technology innovations to the non-techy public.
With Tech Roundup with Bitnode however, Kelechi is boosting the entertainment aspect of the show idea so that people who feel clueless about the tech industry can get basic info and knowledge about tech. Tech Roundup with Bitnode seeks a web series that focuses on educating Africans to utilize technology and digital tools to achieve more with less, and perform optimally in their lives and businesses.
Kelechi is also the cofounder of Skrife, an online platform that helps entrepreneurs, brands, digital agencies and startups communicate and create quality written by connecting them with freelance writers and editors.
Kelechi founded Skrife with Tolu Agunbiade, who she met during her time at Meltwater Entrepreneurial School of Technology (MEST). They were always brainstorming on ideas, especially regarding how they can turn their writing skills into business.
When Tolu began to get complaints from clients about difficulty in getting good writers and they both had writer-friends who were in search of freelance jobs, the duo decided to connect the both parties who needed each other… that was how Skrife was born.
In 2015, Strife got a $15,000 equity free funding from S Factory (Startup Chile) and it's been all the way up since then in their mission to "rid the internet of crappy writing".
The startup was selected among 1,000 African companies for the 2017 Tony Elumelu Entrepreneurship Programme (TEEP).
Kelechi is completing her Front-end wed development course at Udacity courtesy of a scholarship from Google's Womentechmakers.
Kelechi is also an active BellaNaija contributor and we are proud of the successes she is recording. You can read some of her articles HERE.