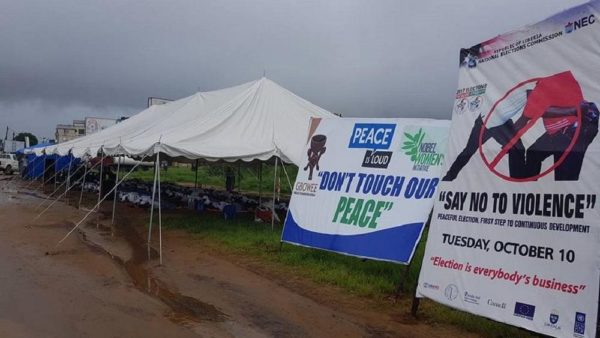 With Liberia preparing to go to the polls next Tuesday to elect a new president and legislators, hundreds of women across the country have decided to fast and pray for peace during the elections.
A Sierra Leonean journalist covering the elections for the BBC, Umaru Fofana, reports that the women are camped across the country and some of the placards mounted outside their camps read as follows: 'Don't touch our peace,' 'Say no to violence' etc.
100s of #Liberian women across the country observing 15 days of fasting for peaceful elections. It ends on the 9 Oct – eve of Election Day. pic.twitter.com/7Fo3qJ19X5

— Umaru Fofana (@UmaruFofana) October 2, 2017
Ellen Johnson Sirleaf, Africa's first female president will be stepping down after her two-term mandate runs out. She has also trumpeted the need for peace as a means to consolidate the security and democratic gains chalked over the time she has been in charge.
Speaking in an interview with the BBC, the 78-year-old said conflict had set them three decades back and that it was in the interest of Liberians to remain peaceful.
When asked about her topmost message to her fellow citizens, she responded: "Maintain the peace, we cannot go back to conflict. Our country was set back over 30 years because of conflict. The underpinnings of everything we have done is the peace that we have secured and that was not easy.
"It took a lot of managing, tolerance, compromises and everything that kept the peace because, without the peace, we would not have done what we have.
"But today I'm so pleased that now, our first generation of children can say they do not know anything about a gun, they never have to run," she said.
According to Africa News, The National Elections Commission (NEC) has confirmed that 20 candidates are vying to replace Sirleaf with a female among the contenders while 986 candidates are standing for 73 seats in the House of Representatives.
2,183,683 million people out of the country's 4.6 million population have registered to vote.
Photo Credit: @UmaruFofana