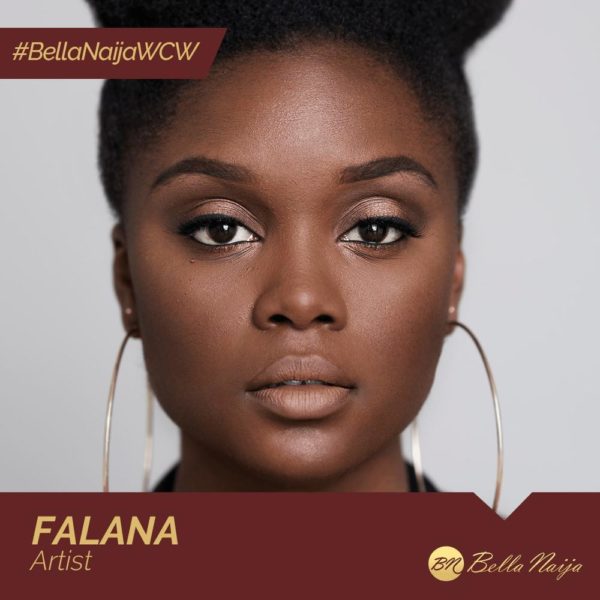 This week's #BellaNaijaMCM and #BellaNaijaWCW series will be celebrating artists who are using their craft to tell beautiful and important stories, while being entertaining in the process.
Music has always been known to be a universal language; one may not necessarily need to understand the language before connecting to the emotions being transmitted or enjoying what is being shared. It is so because apart from the words being said, the interplay of several sounds from different musical instruments leads to a product which is not just pleasing to the ears, but to the soul as well.
Our #BellaNaijaWCW Falana's music typifies this, and although it is difficult to classify her sound, the multi instrumentalist describes her sound as "Soul Fusion", which is influenced by a mixture of jazz, soul, rhythm & blues, and afrobeat.
Growing up in a Nigerian home in Brampton, Canada, Falana was introduced to the sounds of Afrobeat pioneer Fela Anikulapo-Kuti and King Sunny Ade. Her songwriting was also shaped by these sounds. Her powerful and honest writing style began to take form after listening to Lauryn Hill, and as she grew she fell in love the the sounds from Sade, Maxwell, Amy Winehouse, Erykah Badu, Nina Simone, Etta James, and Duke Ellington.
Falana spent about one year in Cuba in a bid to explore her artistic voice, and it was there she recorded her debut EP "Things Fall Together".
Falana expresses her self through her music and enjoys the luxury of not being limited to categorisation.
In 2014, the singer performed for the first time in Nigeria at the Afropolitan Vibes in Freedom Park, Lagos, alongside Yemi Alade, and General Pype, and according to her, the reception of her sound was fun, unreal, and positive.
The love for Falana and her music grew after she opened the show for Asa's "Asa Live in Concert" in 2016. She went on to organise "Falana Uncover'd", a series of pop up concerts between June and September of the same year.
Falana's music is influenced by every day living, thus, relatable. You may not fully appreciate it until you see her perform live. Her dexterity with the instruments will leave you in awe.
Today, we celebrate the rising music star for creating her unique sound and spreading the message of love and hope, for taking the road less travelled in Nigerian music and excelling in it.