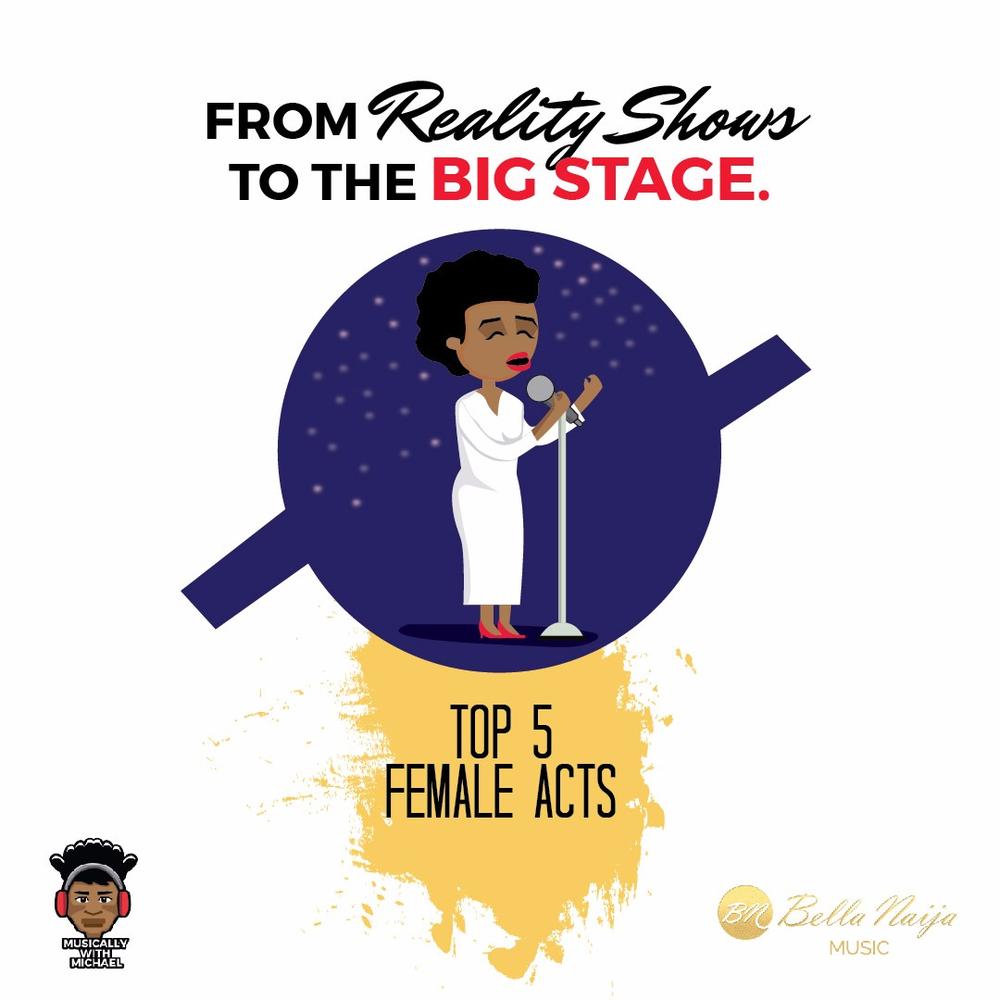 The essence of reality shows as an avenue for upcoming stars to rise to the big stage has been questioned a lot in recent times. A good number of contestants or even winners in some cases have failed to take that significant step to being A-list. Some winners just barely last for as long as their triumph is still buzzing. That will be a topic for another day however. Today, we are celebrating those that actually made it to the big stage.
For the purpose of this week's playlist (The Diva's playlist), we will narrow that list down to the females alone. In case you haven't listened to the playlist, do check it out on the site. I'm sure you'll enjoy it.
Let's go into today's list, shall we?
Aramide
Star Quest ran for 10 years (12 actually but the show didn't hold in two of those) and sought to improve the band culture in Nigeria. Most of the winners sort of fizzled out a while after their win although 2009 winners "The Pulse" went on to release one of my favorite Nigerian songs ever "Sote". Aramide contested as a band member in the 2009 edition which was won by D'Accord. Although her band came third runner up in the competition, she has since moved on to greater things as a solo act picking up awards at the Headies, NEA & AFRIMMA, also releasing her debut album "Suitcase" last year which housed hits like "Funmi Lowo" & "Bose"
Chidinma
Who can forget Chidinma's win at the 3rd edition of Project Fame West Africa? That finale practically had the whole nation glued to their TV sets. She was everyone's favorite all through the show and not surprisingly has done well for herself by holding it down 7 years after her win. Her debut self-titled album had massive hits like "Jankoliko" featuring Sound Sultan, "Kedike" & "Emi Ni Baller".
Omawumi
West African Idol's one and only season was phenomenal as it produced two of the best vocalists Nigeria has seen – Timi Dakolo & Omawumi. Omawumi finished as runner up with Timi eventually winning that season but she has since proved that she can hold her own. Her debut album "Wonder Woman" as well as her sophomore "Lasso Of Truth" were both commercially successful. Hit songs like "In The Music", "If You Ask Me" & "Warn Yourself" also continue to stand the test of time.
Yemi Alade
Mama Africa! Like Chidinma, Yemi Alade also won the competition which she participated in – the Peak Talent Show – in 2009. The show was doubly harder to win seeing as it consisted not just singers but diverse talents have the opportunity to be showcased. Although she had to wait till 2013 for her first hit single "Johnny", she has not looked back since then. "Johnny" was one of the best songs in 2013 despite being released late into the year without a music video. She has since established herself as a music force not just in Nigeria but in Africa as a whole with her ability to translate her songs into different languages for the sake of her African audience.
Niniola
Niniola Apata was also a contestant on Project Fame West Africa, the sixth edition in 2013. Although she finished third runner-up, she did not let that deter her as her debut single the very next year "Ibadi" became a commercial hit. She has gone ahead to create a niche for herself as Nigeria's afro-house queen and has had a stellar 2017 so far with hits like "Maradona" and "Sicker". Her debut album "This is Me" is also expected next month and I am particularly excited about that one.
Truth is, not all stars of reality shows will make it to the big stage, but with enough hardwork, dedication and the right mindset, anybody can make it. Not everybody can make it at talent shows and that does not mean the person is not necessarily good. However, the pressure that those shows bring make it difficult for people who don't do well when nervous. As an artist, you just have to identify your strength and weaknesses and push from there. Till next week…
Yours Musically,
Michael!