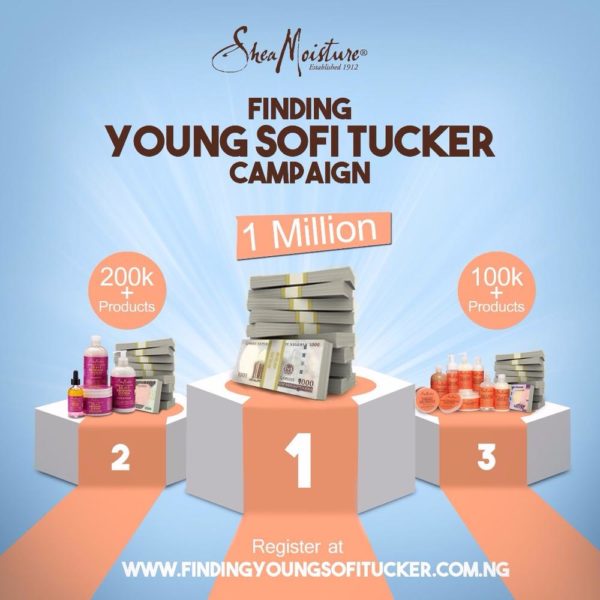 SheaMoisture is the legacy of an incredible woman who rose like a phoenix from the ashes. In 1912, Sofi Tucker a 19-year old widowed mother of 4 began selling Shea butter at a village market in Sierra Leone. Little did she know, that her homemade hair and skin preparations will become a global brand paving 'a better way to beautiful' for women and their families everywhere. SheaMoisture is Sofi Tucker's legacy carried on by the passion and diligence of her family for four generations.
Nigeria has recently witnessed a boost of entrepreneurial spirit amongst young women. More Nigerian women are breaking glass ceilings with unconventional business ideas despite lack of funds and little or no support. Every Nigerian woman has a little bit of the SheaMoisture spirit in her; the relentless spirit of Sofi Tucker. The "Finding Young Sofi Tucker" competition seeks to reward this relentless zeal.
Requirements for eligibility are as follows:
Participant must be female, Nigerian and reside in Nigeria.
Participant must have a clear business plan.
Participant must possess an entrepreneurial spirit.
Participant must be between the ages of 16-35 years.
Participant must have a convincing passion for the SME of choice.
No educational qualification required.
For a chance to win 1 million Naira (N1,000,000) and other prizes, register at www.findingyoungsofitucker.com.ng.
Or Pitch your business plan in a 60 seconds video. Upload the video on Facebook tagging @Sheamoisturenigeria and Instagram tagging @sheamoisture.nigeria with the hashtags #sheamoisturenigeria #findingyoungsofi #youngsofi.
Send your business plan to [email protected]com.ng .
Entry opens on Monday, October 16th, 2017 and closes on Monday, October 30th, 2017.
——————————————————————————————————————-Sponsored Content