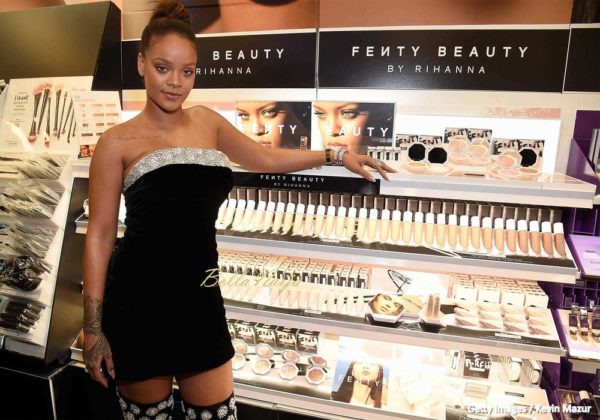 Rihanna's Fenty Beauty, launching with 40 shades, has been named by Time Magazine as one of the 25 best inventions of 2017.
Fenty Beauty, which launched in September with an extensive range of highlighters with fun names like Trophy Wife, Metal Moon, Mean Money, Hu$tla Baby, Girl Next Door, Chic Phreak, Lightning Dust, and Fire Crystal, was arguably the most talked about beauty product in 2017.
Although not the first beauty brand with 40 shades, it gained so much buzz that other brands had to launch campaigns announcing that they too had tones suitable for women of colour.
Such is the power of Rihanna.
Other products on the Time 25 Best Inventions of 2017 list included the iPhone X, which became available for sale earlier this month, and Fidget Spinners, described as the "ultimate distracters."
There's also the Nike Pro Hijab, a hijab for sportswomen; the Tesla Model 3, an electric cat that's neither too expensive nor too limited in range; and the Willow Pump, an on-the-go breast pump.
Then there's Jibo, a personal home robot; the eSight 3, glasses that give sight to legally blind people; Halo Top, a low-sugar ice-cream; the Ember Mug, a mug that keeps your beverage at the perfect temperature; Thyssenkrupp MULTI, elevators that moves not just up and down but also to the side; and Forward, a wellness clinic that helps with the prevention of illnesses.
The Adidas Futurecraft 4D is also on the list, a new sneaker whose midsole can be expertly tailored to the needs of its wearers, and so is the Nest Secure, a simple home security system. The NASA Mars Insight, a sight lander set to launch in 2018 to further probe the planet Mars; the Oculus Go, a virtual reality headset that stands alone; the Tasty One Top, a follow-through guide for recipes; and the DJI Spark, a … well, a drone for selfies.
Not forgetting the Molekule, an air filter that sprays away pollutants; the Michelin Vision Concept, an airless, smarter tire for the future; the Norton Core, a wi-fi router that safeguards your home; the Bempu, a smart bracelet that monitors the temperature of babies; the Nintendo Switch, an on-the-go gaming console; the VICIS Zero1, which basically a stronger and safer football helmet; and the GreenWave 3D Ocean Farm, an ocean-deep super sustainable farm.
Visit HERE to check out the full list.