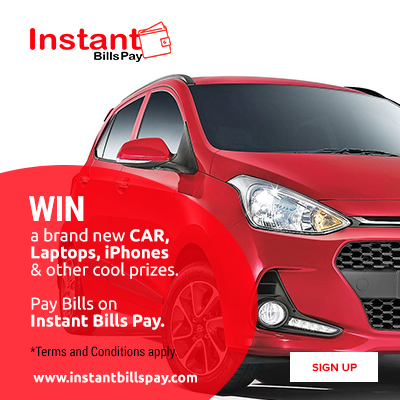 Paying your bills is not meant to be fun, no one likes it really. Now, the new cool way to pay your bills – Instant Bills Pay will reward you with a chance to win a brand new car, as you pay your bills with a payment method made just for you.
And that's not all, you'll get 5% discount on any purchase you make using Instant Bills Pay. Lets do the Maths. Your N5,000 Data plan will now cost N4,750; while that Christmas trip abroad which should cost say N420,000 will be 5% less (N21,000) and cost only N399,000. And don't forget, still with a chance to win a car this Xmas.
Excited? Lets talk about Why Instant Bills Pay, How it works and How to win
Payments of Bills just got a whole lot easier with Instant Bills Pay.
Paying your bills across the African continent can be quite the headache for businessmen, travellers, traders and parents paying school bills. Transactions and payment of bills across various vendors in Africa can now be done in a click with the new online collection platform – Instant Bills Pay.
It's a fast, secure and easy payment platform that anyone can use to make online payments any day, anytime, anywhere; even on-the-go. Instant Bills Pay does not only favour customers; merchants can collect / receive all payments for their goods and services online, without hassles.
The platforms gives the opportunity for your clients to pay up anytime of the day and you'll be notified when a payment has been made through a downloadable & customised report for proper documentation and book keeping in accordance with your business needs.
How does it work?
Instant bills Pay gets customers personal info & contact details
Customers pay on Instant bills Pay with their debit or credit card
Instant Bills Pay processes payment of bills
Merchants sign up on Instant Bills Pay to receive payments
Money is sent and received. Deal Done!
Instant Bills Pay is a step up from other payment platforms as it works with multiple currencies, languages and payments can be made across Africa.
All you need is an Internet connection and a mobile device as it is compatible with all devices (phone, tablet or laptop). Also, Merchants will find it seamless and useful as they can track their international payments with a downloadable report and transaction notification from the Instant Bills Pay team.
Now, lets get started, sign up to Instant Bills Pay here, and enjoy 5% discount on all payments
Customer Signup – https://instantbillspay.lpages.co/instant-bills-pay-register/
https://ng.instantbillspay.com/user/register
Follow us on Facebook, Instagram,  and Twitter.
---
Sponsored Content