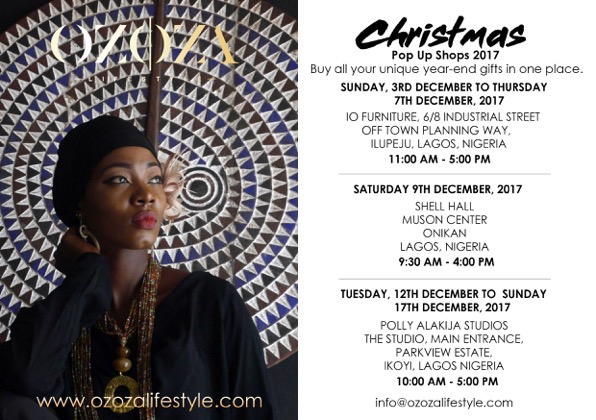 Christmas is one of the most magical and festive seasons of the year. The decorations and the atmosphere all around the cities inspire us to look for the right gifts to give to our loved ones.
Ozoza Lifestyle's mission is to bring out the beauty and uniqueness of African culture with their online shop. Its items are a mix of contemporary art blended with alluring African collections, presenting you a different face of African culture.
The new collection of home accessories, fashion items, and artifacts reflect the Ozoza Lifestyle philosophy to preserve the traditional craftsmanship, skills, and techniques from across the African continent. From luxurious hand-made Usuto earrings to beautiful Isobe Long Disc necklaces, Ozoza Lifestyle has everything you need to present to your loved ones with timeless African glamour.
This is a great chance for anyone interested in contemporary African fashion, high-quality gifts or for art lovers to come and visit Ozoza Lifestyle products at any of their upcoming pop-up shops around Lagos this December.
Each of their items has a story to tell and the team of Ozoza Lifestyle is looking forward to discovering it with you.
——————————————————————————————————————
Sponsored Content