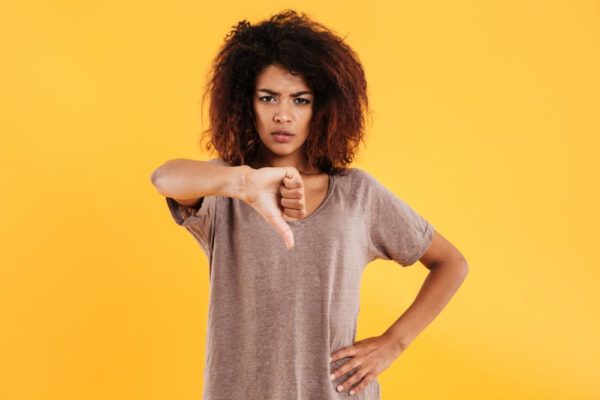 The one thing I appreciate about the Ebola incidence in Nigeria from three years ago, was the sort of discipline it instilled in Nigerians. It suddenly required Nigerians to queue up in public spaces like sane people, sit on the bus within reasonable space range, and the traders in the market who would usually yank at customers, suddenly learned to simply market their goods with their mouths. It was a 'good' time.
I didn't have to worry about constantly moving away from pricking penises behind me on queues or accidental brushes against my breast, or even being grabbed in Lagos market by sweaty hands that have been God-knows-where. It felt good. I enjoyed public spaces more and secretly wished that while Ebola would go away, it would leave this sanity behind. But Ebola packed all its bags and left.
You see, growing up, my guardians always worried about me or my siblings attending concerts or any event that was too crowded and their fears were not irrational. We had heard stories about how people armed themselves with pepper spray, pins, and all sorts. Most times, sexual violence, whether subtly or aggressively is inevitable, when you find yourself in a large crowd. It has become a 'normal' thing.
I've had my fair share of such experiences, in crowded banks, on the bus, at bus stops, in the market e.t.c. I remember four years ago when I attended a concert at Tafa Balewa Square, Lagos. It was my first and I still cringe at the thought of attending such concerts.
I had dressed ready for an emergency. Well-buttoned jeans, long sleeve,  and comfortable shoes, just in case I needed to run for my dear life. I was armed with my hand, ready to slap any hand that wandered aimlessly in my direction. I wasn't raped, but I felt thoroughly molested after being helplessly pressed during a stampede, all in the name of trying to access the venue. How many guys could I slap in the sea of humans? I kept shouting "Don't touch me" and got responses like "If you didn't want to be touched you should have stayed in your house" I simply promised myself never to attend a rowdy concert which had no proper crowd control mechanism in place.
While it is true that many people attend concerts, festivals and all, because it helps them escape from real life work and stress, the very sense of escapism creates a false reality that makes people believe things like "What happens in Las Vegas, stays in Las Vegas". So people lose their heads. Grab some breasts, hump on a lady's behind without her permission… after all, we all came here to have 'fun'. And if she protests against you, cuss her out. If she wanted some sanity, she should have gone to church not come to a concert right?
Shame.
It is not a new phenomenon; however, it needs to be addressed. The recent revelations about people getting raped, molested and harassed at concerts and public gatherings is one of the most isolated issues surrounding the rape culture in Nigeria. Why? Because there seems to be an unconscious socio-cultural consensus in Nigeria that attending concerts is a display of promiscuity and is thus synonymous with immorality.
When people come out to say they were raped at concerts, they are most times shamed and blamed. After all, a man who sticks his finger in a dog's mouth in the name of playing a game must not complain when he is bitten. So, you hear reactions like  "Why did you dress seductively?" "What were you doing out late at night when your peers were asleep?" "Why did you get drunk?" "Instead of you to get married, you're busy hopping from concert to concert"e.t.c  Another thing is that perpetrators of such acts easily get away with their anonymity because of the large crowds before victims can sometimes establish their identity.
It is of utmost importance to keep one's self safe at large gatherings, but never anywhere, or under any circumstance in the world, should it be assumed or become acceptable that attending a concert is a relinquishing of anyone's human right to self-dignity.
It is delusional to think that it equates with giving consent to be sexually mishandled. If you don't have her permission, you can't touch her. Please keep your hands to yourself.
Shout out to the guys who look out for their female friends at concerts. Well done, but there's more to be done. Wouldn't it be nice to attend concerts with your female friends and have fun rather than act as personal bodyguards the whole time? Yes? Then discuss this is your male forums, raise awareness about sexual consent in your small circles and call your friends who engage in such acts to order.
Even though there is no empirical data to demonstrate how rampant this occurrence is in the Nigerian context (which I blame on the culture of silence amongst other things), it would be a wicked thing to turn our cheek the other way.
This is an open call to organizers and producers of events and concerts (religious or secular) to take it upon themselves to raise awareness amongst their attendees about sexual consent at events. This should be part of the provisions for safety at concerts, not just fire alarms.
This should be a necessary requirement… perhaps a part of the terms and conditions of attending concerts should be that any attendee who is reported or found engaging in any form of sexual violence, would face the law. Girls and women attending concerts should feel supported enough to be able to come forward to report any incidence of sexual violence to security personnel at concerts.
It shouldn't be an uncomfortable thing for girls or women to want to let their hair down and attend concerts. Attending Concerts should never mean giving sexual consent or am I right?
Photo Credit: Vadymvdrobot | Dreamstime