We are excitedly waiting for 2018! Warner Bros. Pictures and Village Roadshow Pictures have released the first poster for the upcoming Ocean's 8, a female dominated spinoff of the popular Ocean film franchise.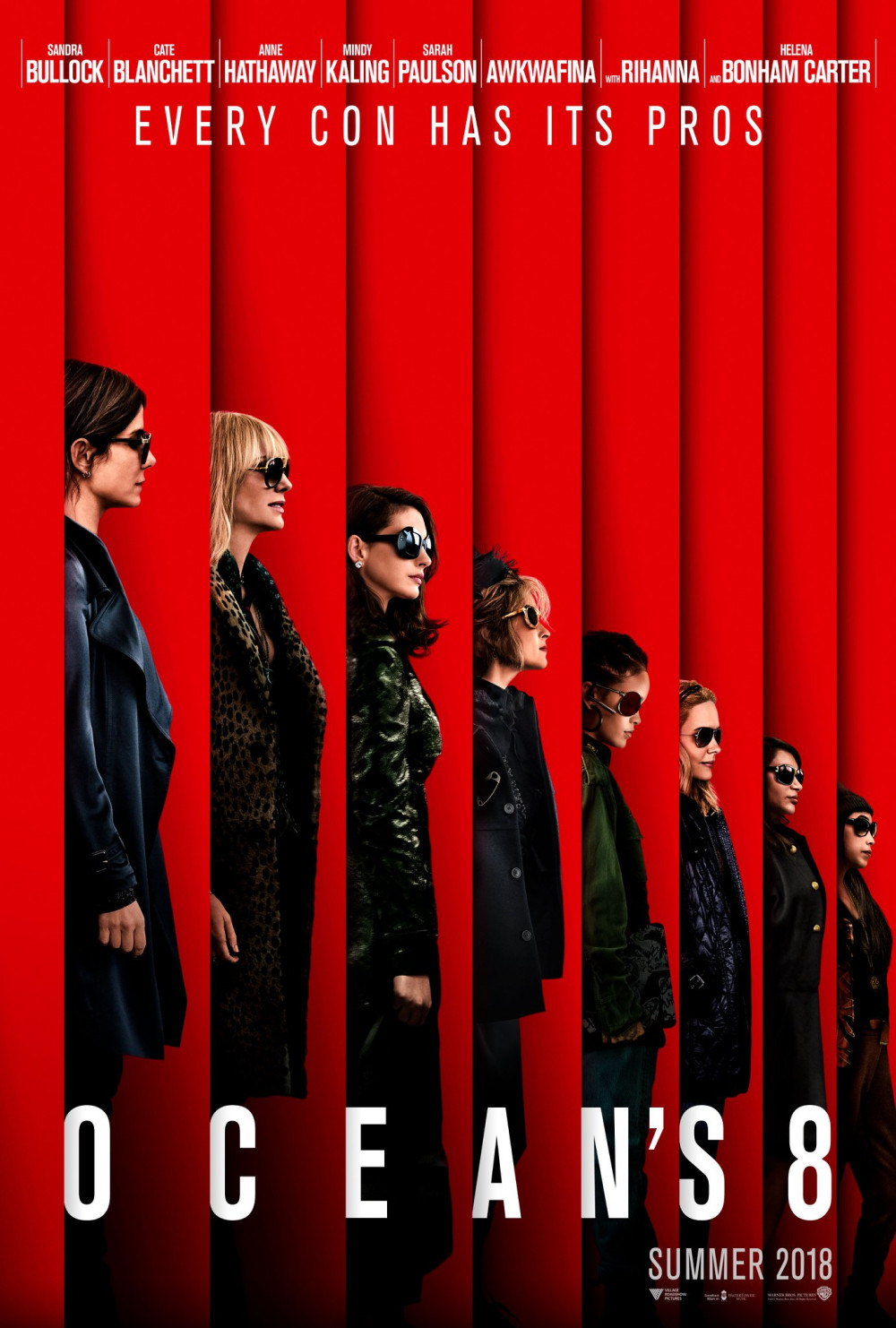 The next chapter from the Ocean's franchise will drop in June 2018 with Sandra Bullock as Danny Ocean's ex-con sister Debbie. She will assemble the perfect crew: Lou (Cate Blanchett); Nine Ball (Rihanna); Amita (Mindy Kaling); Constance (Awkwafina); Rose (Helena Bonham Carter); Daphne Kluger (Anne Hathaway); and Tammy (Sarah Paulson) as they crash New York's Met Gala to swipe a priceless necklace off a celebrity's neck.
Dakota Fanning will appear in an undisclosed role. Matt Damon and Carl Reiner reprise their roles as Linus Caldwell and Saul Bloom from the Ocean's Trilogy in cameo appearances. Anna Wintour, Alexander Wang, Kim Kardashian, Maria Sharapova, Derek Blasberg, Lauren Santo Domingo, Zayn Malik, Kendall Jenner, Katie Holmes, Olivia Munn, Adriana Lima, Hailey Baldwin, Serena Williams, Kylie Jenner and Zac Posen will make cameo appearances in the film.
The movie is being directed by Oscar-nominated filmmaker Gary Ross with Steven Soderbergh and Jon Kilik producing, Michael Tadross, Susan Ekins, Sandra Bullock, Diana Alvarez and Bruce Berman executive producing, and Milch co-producing.
Credit: www.comingsoon.net