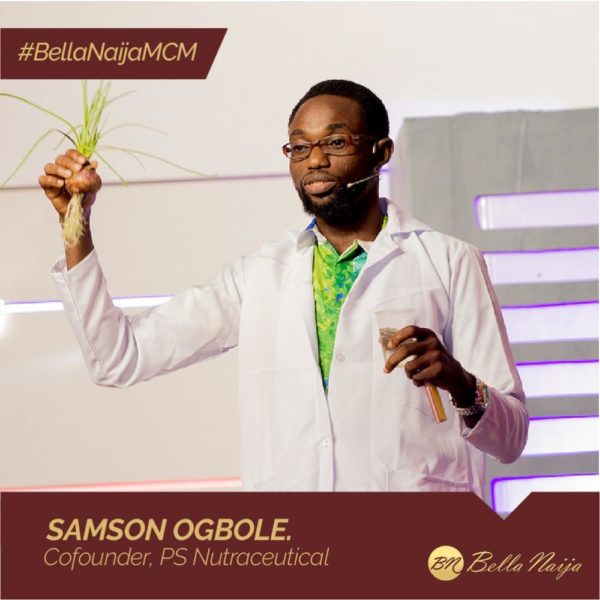 The world's population continues to rise, leading to an increase in demand for land for habitation, which results in the reduction of land available for agriculture. That in itself is a challenge, and more worrisome is that the earth is not expanding. What if we get to the point where there are no more arable lands? What do we do when there are more humans than available land and the world has not "come to an end"? We innovate.
While there are other plans to move people to Mars, we must find ways to grow our crops in light of this new reality. #BellaNaijaMCM Samson Ogbole of PS Nutraceuticals is promoting that movement – innovative agriculture – in this part of the globe.
Climate change and global warming is changing the way we live, our governmental policies, as well as what we eat. We must now be conscious of the effects of global warming and climate change on our current agricultural processes.
At the 2017 TEDGlobal Conference in Arusha, Tanzania, Sara Menker, the founder and CEO of Gro Intelligence – a data company dedicated to building products that change the way the world understands agriculture – predicted that the world, in a decade, will see a 214 trillion calorie deficit (about 379 billion Big Macs). She said:
A tipping point in global food and agriculture could occur if surging demand for food surpasses our agricultural systems' structural capacity. At that point, supply can no longer keep up with demand, despite exploding food prices. People may starve. Governments may fall.
Ogbole is the cofounder of PS Nutraceuticals, a company that utilizes "technology to eliminate various challenges the Agriculture sector is facing. It is committed to life; it strives to create, modify, enhance, and protect the environment and total well being of humanity."
Agriculture is highly dependent on the climate as increases in temperature and carbondioxide (CO2) can increase some crop yields in some places. However, to realize these benefits, other factors, such as nutrient levels, soil moisture, water availability, among others, must be met. Hence, the need to have control over the factors.
The company uses Aeroponics – a plant-cultivation technique in which the roots hang suspended in the air while nutrient solution is delivered to them in the form of a fine mist – to grow crops and has discovered a 4 to 5 times increase in yield having tested it in over 200 crops.
What Aeroponics does is that it gives the plant exactly what it wants: water, minerals and oxygen after it receives sensors from the plant.
PS Nutrac also uses Hydroponics – the process of growing plants in sand, gravel, or liquid, with added nutrients but without soil – as well as Aquaponics – a system of aquaculture in which the waste produced by farmed fish or other aquatic creatures supplies the nutrients for plants grown hydroponically, which in turn purify the water – to grow crops.
Ogbole founded the company with serial entrepreneur Olisaeloka Peter Okocha Jr and is currently a Research Supervisor at the International Institute of Tropical Agriculture (IITA), in Ibadan Oyo state and had also worked with the Yam Improvement for Income and Food security in West Africa (YIIFSWA) of IITA.
Samson has a bachelor's degree in Biochemistry from Igbinedion University, Okada, where he graduated as the best student from Faculty of Health Sciences; a certification in Biotechnology from the Federal University of Agriculture, Abeokuta; an MBA from the National Open University of Nigeria (NOUN); and a Masters degree in Biochemistry (specialty in Drug metabolism and Toxicology) from the University of Ibadan.
He also has several certifications from Lund University, University of Manchester, and University of Western Australia, bordering on Agroecology and Sustainable Agriculture, Development Economics and Population Health.