Boko Haram releases Video showing Shot Down Fighter Jet & Chibok Girls refusing to Go Home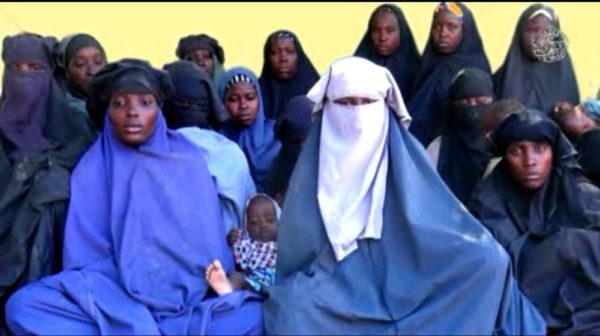 Terrorist sect Boko Haram has released a video showing a shot down fighter jet and Chibok girls refusing to return home.
The video, obtained by journalist Ahmed Salkida, was shared by Sahara Reporters.
The video shows a tanker firing, then a fighter jet and other military vehicles that had been gunned down.
The video also features some of the Chibok girls, one of them speaking in Hausa saying they are not returning home.
The video also revealed that the insurgent group is in possession of a drone, with which, together with a telescope, they used in spying on military positions.
Shekau also features in the video, giving a long sermon of how the remaining girls "understood the folly" of western education.
Watch excerpts of the video below:
BREAKING: Boko Haram releases videos showing how they shot down Nigeria fighter jet and second video of kidnapped women and remaining Chibok girls.
Videos obtained via Ahmad Salkida, a journalist that specializes on reporting the conflict in the Lake Chad region pic.twitter.com/4iwDFpA3eN

— Sahara Reporters (@SaharaReporters) January 15, 2018
BREAKING: Boko Haram releases videos showing some of the remaining Chibok girls who they claimed vowed not to go back to their parents #BringBackOurGirls
Videos obtained via Ahmad Salkida, a journalist that specializes on reporting the conflict in the Lake Chad region pic.twitter.com/5x9xwE1FzF

— Sahara Reporters (@SaharaReporters) January 15, 2018