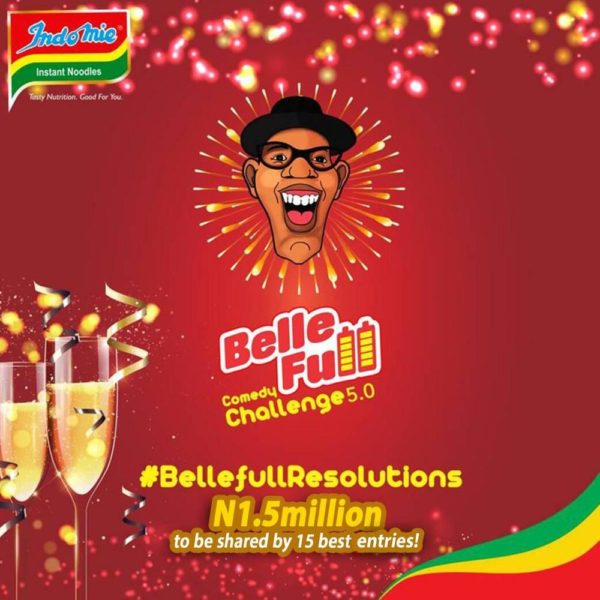 It's another season of laughter with the Season 5 of the Indomie Bellefull Challenge on board. This time around, the campaign will run from Monday, January 8th to Monday, February 12th, 2018.  If you've never been opportuned to experience the fun that comes with the Indomie Bellefull Challenge, get ready for a thrilling time out because you are in for one of the most interesting and rewarding times ever. What better way is there to begin the year than having a season of laughter and amazing rewards?
Ready to sign up for the challenge? This season introduces an interesting twist that would produce the most amazing buzz ever. Remember how we make New Year resolutions and break them almost immediately? Yeah, right! We all would have experienced that. It's now time to make some money from it. The Indomie Bellefull Challenge provides you with an opportunity to showcase your comedy talent with an interesting video of how you broke your New Year resolutions.
Just like the previous seasons, participation is easy and open to everyone. Simply create your video of not more than 60 seconds, upload on any of your social media pages and tag Indomie on Facebook, Instagram or Twitter. This promises to be a humorous season and you shouldn't be left out of it. Winning is as easy as taking a selfie. All you need to do is to ensure your video is creative, funny and in line with the time restriction.
Fillers from the organizer's show that this season of the Bellefull Challenge will be unique and fun packed. Winners will be screened critically and announced on the brand page. So, if you are yet to like the Indomie pages, you will need to do so now.
What's more? 15 winners will emerge from the challenge to grab different cash rewards. The first placed winner gets N500, 000, the second placed gets N300, 000, the third placed gets N100, 000, while all other winners get N50, 000.  What a beautiful way to begin a promising year!
So, don't be told about the fun. Gear up now for the Indomie Bellefull Challenge Season 5. Tell a friend to tell a friend that it is time for the Indomie Bellefull Challenge. No lover of comedy should miss this. Get your crew together and let the fun begin. Here is a link to the past videos on the Indomie Bellefull Comedy Challenge… Fun meals begin with a bowl of Indomie noodles.
———————————————————————————————————————————————
Sponsored Content